Greenpeace | July 6, 2012
Herakles Farms and how a US agri-corporation sparked anger in Africa
by Filip Verbelen
Palm oil is the world's cheapest edible oil and a key ingredient in some biofuels. Global demand is booming and agri-corporations are grabbing large swathes of land to expand palm oil production in a new frontier: Africa.
One of these corporations is Herakles Farms, a New York-based agri-corporation with links to one of the world's largest private equity firms, Blackstone. Herakles is steaming ahead with its palm oil plantation in Cameroon, which is set to affect tens of thousands of people in dozens of villages and, covering around 70,000 hectares, would flatten a forested area larger than Manhattan Island between four protected areas.
Portraying itself as a benign benefactor, Herakles Farms says it "aims to meet growing global demand for food by developing sustainable and environmentally benign projects with full support of the local people".
But in Cameroon, this is hardly the case.
During a Greenpeace field trip to Cameroon this month, I witnessed widespread local opposition to Herakles Farms' highly controversial yet potentially lucrative palm oil plantation.
People fear they will lose their land and their livelihoods to the US-based corporation's subsidiary in Cameroon, SG Sustainable Oils Cameroon (SGSOC). Many farmers in the area are self-employed, growing cacao, taro and maize, among other fruits and vegetables. SGSOC has not presented any maps indicating the inner boundaries of the proposed palm oil concession, leaving villagers in the dark as to how much farmland they actually stand to lose.
Full support of the local people is something Herakles Farms clearly does not have.
During a visit by the Governor of the South West Region to Fabe and Toko on June 6, local people wore t-shirts with the slogan "SGSOC out – no plantation in our land", and put up a banner saying: "Mr Governor, welcome to Toko municipality. We say no to SGSOC/Herakles Farms". Villagers in Fabe also placed traditional juju symbols, such as palm leaves, at the entrance to the plantation, to prevent SGSOC workers from entering.
These protests have been met with severe intimidation and arrests. Protesters were summoned to Mundemba police station and several villagers have been arrested for several days.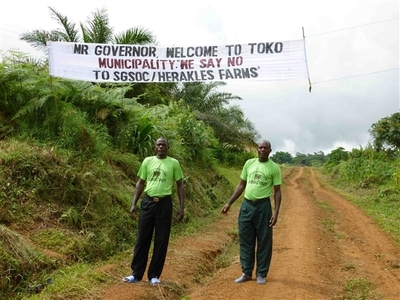 Despite claims to the contrary, the farm will not deliver a financial windfall. Herakles Farms somehow managed to negotiate a contract that is exceedingly favorable for the company. For instance, the company has received major tax breaks and the surface rents are so incredibly low (US$1 per hectare) that taxes will contribute almost nothing to state revenue, while for a full 99 years SGSOC pays no import or export duties. It is even unclear if Cameroon labour laws will cover employees of the plantation.
Herakles Farms is racing to hide this sort of news and will instead continue to talk about "collaboration", "community support" and "economic growth". But the fact is, Herakles Farms is in a race against time. It has thousands of palm oil seedlings that may soon be too old to plant; in other words, a big waste of time and money for the company.
Herakles is also racing to keep the Roundtable on Sustainable Palm Oil (RSPO) on board, which certifies producers as 'sustainable'. Losing its chance to get certified would mean losing credibility to its potential buyers and investors.
An independent assessment by the High Conservation Value Resource Network Technical Panel has shown the High Conservation Value (HCV) assessment SGSOC commissioned to be deeply flawed. The RSPO is also now faced with two formal complaints filed by WWF and SAVE and has been criticized by Cameroonian and international organisations as weall as scientists. Greenpeace can only expect that the RSPO will confirm as soon as possible that the Herakles Farms project is simply not suitable for certification.
SGSOC's proposed palm oil project is the wrong project in the wrong place. It must be stopped. Rather then becoming a model for sustainable palm oil production in Cameroon, the project is generating substantial social conflict and may lead to large-scale rainforest destruction in one of the most ecologically sensitive areas of Africa.
This is why Greenpeace has been calling upon potential investors into SGSOC's project such as the African Development Bank to not put their funding in this controversial palm oil project.
Filip Verbelen is a Greenpeace International forest campaigner