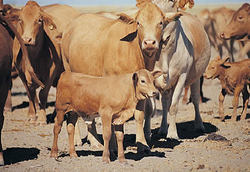 The AAco is majority-owned by foreign investors -- that is, hedge funds and large institutions in North America, Europe, Asia and New Zealand.
(See the Chairman's Address to the 2012 AGM, pp 11-12)
The Australian | July 17, 2012

Indigenous land deal to share cattle profits
by: Sue Neales, Rural reporter
A LANDMARK agreement in the Kimberley is close to being sealed in which Australia's largest cattle corporation will lease vast tracts of land from their Aboriginal owners in return for providing jobs, training and a share of profits in the cattle business.
According to a heads of agreement announced yesterday, the publicly listed Australian Agricultural Company will soon rent and manage the Leopold Downs and Fairfield cattle stations in the Kimberley region from the Bunuba people.
Both pastoral leases, covering more than 570,000ha, are owned by the Bunuba Cattle Company, an economic development arm of the Fitzroy Crossing-based indigenous community.
As well as paying rent and splitting cattle profits, AAco will buy the 17,000 Brahman cattle on the two stations that the 700-member community bought through the Aboriginal and Torres Strait Islander Commission in 1991.
The Aboriginal community will still have access to the two cattle properties for traditional, custodial and educational purposes.
Joe Ross, former chairman of the Bunuba Cattle Company and the chief negotiator behind the deal with AAco, said his community's cattle business had been "crushed" since the live-cattle trade to Indonesia collapsed last year. "One of major factors in exploring a relationship with AAco is to align ourselves with a single, secure supply-chain manager.
"That gives us that level of scale and efficiency in both herd management and sales and marketing," Mr Ross said.
"Our issue here has always been jobs because the work on our Kimberley stations is seasonal. This way our people can work up here in the dry season, but then in the off-season go to work for AAco in its abattoirs elsewhere, or up in the Ord or down in the channel country, and get the extra training and skills that entails."
For AAco, which already owns 7.7 million hectares, 19 cattle stations and 600,000 head of cattle in the Northern Territory and Queensland, the Bunuba deal offers a key foothold in WA.
"This is a very smart indigenous community looking for a way forward to the future," AAco chief executive David Farley said.