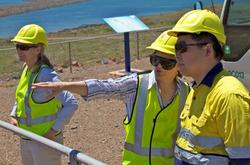 Dongyi Hua would prefer to be in farming in Australia
The Australian | July 17, 2012
Chinese mining executive would rather invest in Australia's agriculture to meet China's food demand
by: Andrew Burrell
THE head of a $7 billion Chinese mining project in the Pilbara says Australia has a golden opportunity to meet China's soaring demand for high-quality food and he would prefer to invest in agriculture rather than iron ore, given the risk of falling prices for the steelmaking ingredient.
Citic Pacific Mining executive chairman Dongyi Hua told Julia Gillard and Perth business leaders yesterday that soaring demand for Australian food, particularly beef, among China's 100 million wealthy people could buffer Australia's economy from the effects of an end to the mining boom.
"Those top people, they never care about the price," Dr Hua told an In The Zone business roundtable in Perth sponsored by The Australian.
"If it's $15 or $50 a kilo (for Australian beef), they are willing to accept it."
Citic Pacific's Sino Iron magnetite project is set to enter production in September after several cost overruns and major delays.
Dr Hua said Citic Pacific had begun a cattle export operation on a pastoral property it owned in the Pilbara as part of its acquisition of mining tenements several years ago.
His comments come amid rising concerns from politicians such as Nationals Senate leader Barnaby Joyce and independent senator Nick Xenophon about increasing Chinese investment in Australian agriculture.
Wesfarmers chief executive Richard Goyder, who attended the roundtable, last month said sensitivity over Chinese investment in farms was overdone, as it remained "minuscule".
Mr Goyder has been stitching up deals with Australian farmers so that Wesfarmers' Coles supermarkets can ensure future supplies of food in the face of an expected onslaught of demand from supermarkets in China.
Dr Hua said yesterday that there was a risk that China's steel production was peaking and Australia alone could lose up to 100 million tonnes a year of supply into the global iron ore market.
"This year China will reach 800 million tonnes of steel, but those quantities can not increase every year," he said.
But Rio Tinto Iron Ore chief executive Sam Walsh said he did not expect Chinese iron ore demand to fall dramatically.
"I think the answer is we need to have the operations that are in the first cost quartile," Mr Walsh said. "We are the proximate supplier to China, we need to be the very best that we can be. I can't see a situation where the volumes that we've won, we'll lose.
"Volumes may change over time, but it will be others who lose it, not Australia because we are very well-positioned with what we supply."
Dr Hua said Australia "has to consider how to keep the economic system running well" and said China had 1.3 billion people to feed with a declining area of arable land.
"In China at the moment they are facing a problem," he said.
"So when people talk about Australia in Beijing or Shanghai, or even in the small towns, they will talk about the nice weather, lots of land and high-quality food.
"So this is really an advantage for Australia."
The In the Zone roundtable at the University of WA was also attended by Woodside Petroleum chairman Michael Chaney, Chevron's Gorgon manager Colin Beckett, ANZ state chairman John Atkins and Special Minister of State Gary Gray.