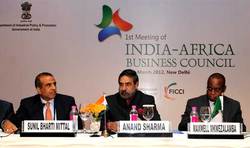 Officials from the Institute of Social and Economic Change, Bengaluru, opine that fertile land access in Africa will support feeding many hungry mouths, if agricultural experts from countries in Asia including India provide the required support to grow and sustain sowing and harvesting activities.
Food & Beverage News | Saturday, July 14, 2012
Feature: India pumps in food processing, agriculture tech expertise into Africa
The Indian food processing industry and agriculture technology manufacturers see Africa as the region of limitless possibilities for growth.
The availability of natural resources, efforts by the Government of Africa to lease fertile land to foreign companies, presence of a vibrant and fast-growing financial sector besides availability of affordable manpower are some of the key factors that help sustain and strengthen the India-Africa trade relations in agriculture and food processing, according to an expert.
Africa is wooing agriculture and food processing majors to partner and support agriculture related activities. The country is a promising investment hub for many Indian food and agriculture companies. Some of the major factors drawing companies from India to Africa in addition to the fertile land and natural resources are the exemption from taxes/duties, along with ample government assistance.
Liberalised economies
The African Union members, which represents 54 nations of the continent, are now emerging as liberalised economies with government commitment to private sector development. There are efforts like the Gateway to the Economic Community of West African States (ECOWAS), which is a market of 240 million people positioned with both challenges and opportunities that many Indian food processing and agriculture companies in India could tap.
From Ghana, Benin, Burkina Faso, Niger, Gambia, Nigeria, Guinea, Cameroon, Cape Verde, Guinea-Bissau, Sao Tome and Principe to Sierra Leone, Cote d'Ivoire, Equatorial Guinea, Gabon, Republic of Congo, Liberia, Togo, Senegal, Mali and Mauritania, the scope for growth is plenty and can open up many investment opportunities in the region, according to the Federation of Indian Chamber of Commerce and Industry (FICCI).
Fertile land access
Officials from the Institute of Social and Economic Change, Bengaluru, opine that fertile land access in Africa will support feeding many hungry mouths, if agricultural experts from countries in Asia including India provide the required support to grow and sustain sowing and harvesting activities.
Indian companies in the African countries view only gains as it firstly helps to infuse the right technology and secondly generate local employment. There is a significant presence of Indian agricultural firms and food processing companies in Africa. These include Tata Group, Karuturi Global, Shapoorji Pallonji & Co, BHO Bio, Jaipurias of RJ Corp, Whitefield Cotton Farm, Verdanata Harvests, S& P Energy Solutions, Sannati Agro Farm Enterprises and Ruchi Soya.
Food clusters
At the Second India-Africa Summit in 2011 at Addis Ababa, packages given by Government of India to Africa cover development of food clusters only for exports in Africa.
FieldFresh Foods Pvt. Ltd is a joint venture between Bharti Enterprises and Del Monte Pacific Ltd. The company offers branded FieldFresh fruits & vegetables across Indian and international markets and Del Monte branded processed foods & beverages will also be exported to Africa, according to Sanjay Nandrajog, CEO, FieldFresh Foods.
Petonia Food, a leading frozen vegetarian food range marketed under the brand name Mother's Kitchenette, is currently engaged in exports of frozen foods to the Middle-East, Dubai, Australia and Africa. "The latter is an important destination," stated Mihir Parekh, CEO/MD, Petonia Foods, in an earlier interaction with F&B News.
Karuturi Global Ltd has over three lakh hectares to grow cereal, pulses and palm. Ruchi Soya has 25,000 hectares to grow soya beans; Sannati Agro Farm Enterprises has 10,000 hectares to cultivate pulses, rice and cereals. There are also spice and tea majors looking at Africa with considerable interest.
Leased land concept
According to the Confederation of Indian Industry (CII), the tax concessions and leased land concept have seen companies here opt for an African trail even if they are remotely associated with agriculture and food processing. For instance, infrastructure major Shapoorji Pallonji & Co received 50,000 leased hectares in Ethiopia and is likely to consider its foray into agriculture in the coming years. There is also considerable interest evinced for the tea gardens in Africa which are known to have some of the best black teas in the world. The regions of Malawi, Kenya and Tanzania are home to the best tea estates, according to a food exporter.
Keen on Africa
An official pointed out that there were over 70 Indian companies, which were now working to enter Africa to start farming activities, as there was huge scope for growth in Ethiopia, Malawi, Kenya, Uganda, Liberia, Ghana, Congo and Rwanda.
According to industry information garnered from various sources: The Tata Group too has land leased in Uganda to run a pilot agricultural project. Another leading industry, Jaipurias of RJ Corp leased 50-acre model dairy farm to expand its presence from the Uganda and Kenya and tap other countries of Africa to market its range of milk by-products.
There are also efforts to acquire tea estates by Indian companies. High price of tea garden acquisition in India is driving many companies to Africa. The B M Khaitan-owned McLeod Russel India, said to be the largest integrated tea company in the world, acquired Uganda's Rwenzori Tea Investments. Borelli Tea Holdings of the UK, a wholly-owned subsidiary of McLeod Russel India and Rwenzori Tea Investments has six estates to produce 15 million kg of tea annually. B K Birla's Jay Shree Tea & Industries, bought three tea gardens in East Africa at Rwanda and Uganda. Further, Dhunseri Tea & Industries is scouting for acquisitions in Africa.
Food security
Many Indian food companies are keen to set up food processing units. It will help to tap the domestic African market and generate revenues but also contribute towards the food security in the region.
The Government of India too is playing the role of a catalyst in helping its food and agriculture companies increase their presence in Africa. India is encouraging to place Foreign Direct Investments (FDI) in Africa which will not only allow fund infusion but access to improved technology from India to Africa. Such initiatives will help Africa have access to improvised technology transfer from India and the latter will need to adopt or improvise the same without investing in new ones. When Indian food and agri majors participate in joint venture pacts with African companies it leads to faster and easier technology adoption and assimilation. Further, there is scope for Indian companies to build forward linkages like contract farming helping the agri sector in Africa to integrate agri supply chain with processing plant or retailing business, according to an industry observer.