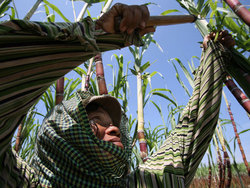 Les fermiers cambodgiens ont lancé un appel au boycott du sucre de la marque Tate and Lyle Sugars. D.R.
Radio France Internationale | jeudi 05 juillet 2012
Les fermiers cambodgiens appellent au boycott du sucre de Tate and Lyle Sugars

C'est un effet pervers de l'accord « Tout sauf les armes » censé favoriser les revenus des pays les plus pauvres de la planète. Depuis 2001, les Pays les moins avancés (PMA) peuvent exporter leurs produits vers l'Union européenne sans droits de douane. Depuis 2006, cet accord concerne aussi le sucre et le contingent est devenu maximal depuis 2009.
Comme par hasard, les conflits avec les villageois au Cambodge sont devenus légion depuis lors. Car les plantations de canne à sucre d'ampleur industrielle se sont multipliées dans ce pays, qui fait partie des PMA. Les exportations de sucre du Cambodge ont ainsi doublé l'an dernier, pour atteindre 20 000 tonnes. Mais la propriété privée n'existe pas au Cambodge. La terre appartient à l'Etat, qui cède des dizaines de milliers d'hectares à des potentats locaux, qui s'associent à des compagnies étrangères, le plus souvent thaïlandaises ou chinoises.
Les paysans qui cultivaient depuis des années le riz sur ces terrains se retrouvent du jour au lendemain sans lopin. 700 000 personnes ont été expulsées en douze ans, plus de 50 000 rien que l'an dernier. Ceux qui résistent sont convoqués par les tribunaux et toujours condamnés.
Depuis deux ans, avec l'aide des ONG, dont la FIDH, les communautés villageoises ont alerté la Commission européenne sur les conséquences, néfastes pour elles, de l'accord « Tout sauf les armes ». Elles ont aussi tenté d'obtenir des compensations du plus grand raffineur en Europe, Tate and Lyle Sugars, qui a signé un accord de fourniture de sucre sur cinq ans avec l'une des nouvelles plantations géantes du Cambodge.
En l'absence de réponse de l'entreprise, désormais sous contrôle américain, les villageois cambodgiens ont lancé depuis Phnom Penh un appel au boycott du sucre vendu en Europe sous cette marque. Une marque emblématique, puisque Tate and Lyle Sugars existe depuis 130 ans.