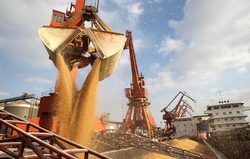 Imported soybeans are unloaded from a ship at a port in Nantong, Jiangsu province. [Photo/China Daily]
China Daily |
2012-06-30
$10m Argentine farming deal mulled
By Zhou Siyu in Buenos Aires (China Daily)
Chongqing Grain Group Co Ltd, one of China's largest State-owned grain companies, is in talks with Molino Canuelas SA, a major agribusiness group in Argentina, about joint investments totaling $10 million in a soybean farm and dairy farms in the South American country.
This marks the beginning of a series of plans the Chinese group is about to carry out in Argentina.
It also follows its investment in a soybean production base in Brazil last year, as it steps up its effort to meet the country's growing appetite for agricultural products through investments in South America.
Agreements on the investments in Argentina - split 50-50 between the two companies - are expected to be signed "within this year", Claudio Canepa, industrial manager of the Argentine company, said in Buenos Aires on Wednesday.
The two companies plan to rent a 10,000-hectare soybean farm in central Argentina's agricultural Cordoba province, with an expected annual output of more than 30,000 metric tons of soybeans, and ship all the beans back to China.
According to the current farmland rental price in Argentina, investment in the soybean farm would amount to around $6 million, and the remaining $4 million will be invested in dairy farms owned by the Argentine company to produce dairy products for export to China, Canepa said.
"This is just the first step (in cooperation) for the two companies," Canepa said, adding that they will also jointly invest in Chongqing in the near future.
The southwestern China-based group has emerged as a major overseas investor in recent years. It said in November that it will invest $500 million to build a soybean production base, equipped with oil-crunching, refinery and processing plants, in Brazil's northeastern state of Bahia.
The group also announced plans early this year to invest $1.2 billion in Argentina to grow corn, cotton and soybeans, according to Chinese media reports.
Overseas investments in South American countries' agricultural sector could provide Chinese companies with cheap and reliable supplies, all the more important as the country has grown steadily more dependent on the international food market in recent years, said Chinese agricultural analysts.
Most Chinese companies currently buy soybeans from international traders such as Bunge Ltd and Cargill Ltd. Direct purchases from the producers could cut costs by around 20 percent, analysts said.
In the meantime, closer ties with South American countries could also reduce China's reliance on soybeans grown in the United States, they added.
China is the largest overseas market for US soybean farmers. It imported 52.6 million metric tons of soybeans last year, nearly half of which came from the US, accounting for 60 percent of total US soybean exports last year.
During the first five months of this year, China's soybean imports jumped 20.7 percent year-on-year to 23.4 million tons, according to the General Administration of Customs.