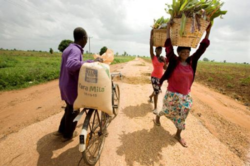 Susan Sikaneta, high commissioner of Zambia, said Indians with their good knowledge of agriculture, expertise and technology should come forward to invest in agriculture in Zambia, which is offering land and other incentives on first come, first served basis.
IANS | 21 June 2012

African countries invite Indian investment in agriculture
By IANS
Hyderabad : African nations like Zambia, Ethiopia and Mozambique invited Indian investors to invest in various sectors, especially in agriculture, saying this has the potential to provide food to both Africa and India.
Diplomats from the three countries showcased the immense potential and urged Indian investors to take advantage of the investor-friendly climate and a host of incentives they were offering.
They were addressing a session on "Doing business with African countries" organised by the Confederation of Indian Industry (CII) here Thursday.
With vast unutilised arable land, best agro-climatic conditions, a stable political system and investment incentives including 100 percent repatriation of profit, the African countries offer huge business opportunities to Indian investors, they said.
The diplomats said African nations were ideal destination for investment for Indian investors given the commonalities between India and Africa.
Susan Sikaneta, high commissioner of Zambia, said Indians with their good knowledge of agriculture, expertise and technology should come forward to invest in agriculture in Zambia, which is offering land and other incentives on first come, first served basis.
The central African country has 43 million hectares of land but only six million is being currently used.
"Chinese are coming in big numbers but we love Indians to come. You have passion for Africa. You are not like other countries which are interested only in making money," she said advising investors not to miss the opportunity.
Eighty percent of Zambia's 13 million population is dependent on agriculture. The investors can grow and export maize, cotton, wheat ando ther produce.
Maria Fatima G.C. Phume, deputy high commissioner of Mozambique, said only 15 percent of 36 million hectares of arable land in her country was utilised due to lack of agriculture technology.
She said Mozambique, which was one of the world's fastest growing economies, offers excellent investment opportunities in agriculture,energy, mining and infrastructure.
"The investment in agriculture can not only secure food for our people but also for India. The investors can also export the agriculture produce to other African countries and Middle East," she said.
With 23.4 million population, Mozambique has Portuguese as national language but English is widely used for business purposes
Jerusalem Amdemariam, minister counsellor, economic and business in the Ethiopian embassy, highlighted the investment incentives like 100 percent exemption from import duties. The investors are allowed to repatriate the entire profit. Agro-processing industries are also exempted from income tax for two to seven years
With 82 million population, Ethiopia is the second most populous African country after Nigeria and with its proximity to Middle East and Europe, offers access to big markets.
She said Indian government was collaborating in road developments and laying new railway lines. Ethiopia offers tremendous business opportunities in agriculture, manufacturing particularly agro-processing,food and beverages, she added.
I.Y.R Krishna Rao, Andhra Pradesh's special chief secretary, cooperation and agri-marketing, said a delegation headed by state agriculture minister would soon visit Africa to explore investment opportunities in agriculture and allied sectors.
"We should really build up mutually beneficial relationship in agriculture which has tremendous implications in terms of food security in India and as well as Africa," he said.
Rao said once African agriculture develops, it can to a large extent ensure food security of the world. "As a continent, in terms of agriculture, there is a lot of scope for development there," he said.
He pointed out that Andhra's people by nature are very enterprising as far as agriculture is concerned and wherever there is water, Andhraites are there.
Suchitra K. Ella, chairperson, CII-Andhra Pradesh, said there was tremendous scope for cooperation between India and the three African countries given their historic relationship and the commonalities.

---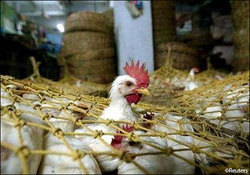 Africa: big business for Indian hatcheries, the Confederation of Indian Industry says
Business Line | Fri, 22 Jun 2012
Biz avenues for Indian poultry industry in Africa
Hyderabad: African countries present significant business opportunities for the Indian poultry industry for setting up hatcheries through joint ventures or supplying feed and technology for value-addition.
The Andhra Pradesh chapter of Confederation of Indian Industry (CII), in a renewed bid to tap opportunities in Africa, will be taking a trade delegation to Africa in September this year.
As a run-up to this, the CII organised an interactive session on 'Doing Business with African Countries', here on Thursday.Ms Jerusalem Amdemariam, Minister Counsellor- Economic and Business, Ethiopia, Ms Maria Fatima Phume, Deputy High Commissioner, Mozambique High Commission, and Ms Susan Sikaneta, High Commissioner, High Commission of the Republic of Zambia, extended a "red-carpet invitation" for Indian entrepreneurs to invest in these African countries.
Mr Suresh Chitturi, chairman CII-AP Task Force and Agriculture and MD of Srinivasa Hatcheries, who had been on an explorative visit to Africa recently, said the cost of an egg in many parts of Africa was Rs 8 each, almost three times that in India.
"There are enough opportunities for poultry firms and ago-tech companies in Africa," he said during the session.