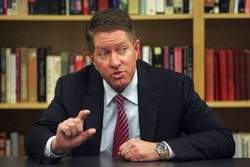 Bruce Rastetter / File photo: Arturo Fernandez/The Register
Des Moines Register | Jun 19, 2012
Ethics complaint: Rastetter used regents board to push African 'land grab'
Written by Jen Krogstad
An ethics complaint being filed today alleges agribusiness investor Bruce Rastetter used his membership on a board that oversees Iowa's public universities to advance a business venture involving Iowa State University.
Rastetter, a top Republican donor and fundraiser, stood to make millions of dollars through AgriSol Energy Corp. in a "land grab," according to Iowa Citizens for Community Improvement, a Des Moines group that released a copy of its complaint this morning.
The deal would turn as much as 800,000 acres of land in the east African country of Tanzania into a massive grain-and-livestock operation.
The development could net AgriSol, in which Rastetter is an investor, "as much as $300 million a year from the forcible eviction of subsistence farmers from refugee camps in Tanzania, leasing the newly vacant land from the government at 25 cents an acre, and exporting the vertically integrated, industrial model of corporate agribusiness from Iowa to Tanzania — all duty and tax free," according to the complaint to be filed with the Iowa Ethics and Campaign Disclosure Board.
Summit Group, Inc., an Iowa company that owns AgriSol, welcomes a review by the ethics board, and hopes it will address any questions involving Rastetter's "commitment to public service here in Iowa and abroad," said Joe Murphy, the company's director of public affairs. Rastetter is CEO of Summit Group.
"Bruce operates with the highest degree of integrity and has long been an advocate for education and agriculture. He also has a strong tradition of providing support and gifts to the Regent institutions," Murphy said in an email. "At the same time, Bruce has a deep commitment to helping lift people out of poverty by adopting sustainable agricultural practices."
Iowa CCI is calling for Rastetter's resignation. Among the allegations by the group: Rastetter falsified a financial disclosure statement with the state ethics board last year, and disclosed his
conflict of interest
in the land deal six weeks after starting his term on the Iowa Board of Regents. Rastetter later recused himself from the project, about four months after becoming a regent.
Iowa Gov. Terry Branstad has said he supports Rastetter, who was the largest contributor to his 2010 campaign. Last year, Branstad appointed Rastetter to the Board of Regents. The governor is confident in the "judgment of Regent Rastetter on his decision regarding when to recuse himself," said spokesman Tim Albrecht.
In February, Wendy Wintersteen, dean of Iowa State's College of Agriculture and Life Sciences, announced the university was pulling out of its advisory role in the project because of misunderstandings about its involvement.