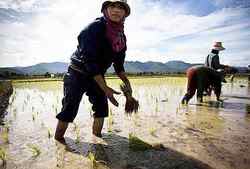 "Although rice farming and trading are limited to Thais under the Foreign Business Act, many foreigners can easily rent or own land for raising rice and conducting a rice-trading business in the Kingdom," a rice trader said yesterday.
The Nation | June 15, 2012

Foreigners 'skirting rules protecting rice businesses'
Petchanet Pratruangkrai
S'pore firms 'exploiting loopholes'; Study: local competitiveness falling
Farmers and traders stand to lose business as they face a serious challenge from many foreign firms, mainly Singaporean, which have set up rice-trading operations and plantations here under Asean seamless trade.
"Although rice farming and trading are limited to Thais under the Foreign Business Act, many foreigners can easily rent or own land for raising rice and conducting a rice-trading business in the Kingdom," a rice trader said yesterday.
At a Commerce Ministry seminar on creating a strategy linking local and global businesses, Thai rice exporters urged the government to protect Thai rice-cultivating areas and the trading business from alien residents by urgently checking the ownership of rice plantations and the certificates for running a trading business.
The source said many Singaporean and some other foreign traders are now taking advantage of a loophole in Thai laws to purchase land suitable for paddy fields and starting up rice-trading houses in Thailand.
Those foreign investors tend to be Singaporeans, as they can easily come here to do business since their country is one of the Asean members, the source said.
The Asean Economic Community has now created challenges for Thai rice farmers and traders. Singaporean investors are exploiting free trade within Asean to deal in the grain, which should be restricted to Thais, he said.
Two years ago, the ministry reported that some foreign investors particularly from the Middle East had tried to purchase paddy fields in Thailand. However, the government, through the Department of Special Investigation and the Business Development Department, has not yet managed to investigate the circumstances.
Korbsook Iamsuri, president of the Thai Rice Exporters Association, said some Thai rice exporters are now not Thai, while some foreign rice exporters want to join the association as members.
She said Asean integration was a two-edged sword for the Thai rice industry, as it has encouraged Thai exporters to expand to other Asean nations, while foreign traders can easily penetrate the market here.
A study by the Thailand Development Research Institute (TDRI) showed that the lack of value-chain development in rice farming and loose cooperation between government agencies and rice traders had left Thai rice production and industry less competitive and less developed than in the past decade.
Rice exports continue to drop
Farmers are making less income and want the government's assistance every year, while Thai rice exports have continued to drop.
The study funded by the Commerce Ministry found that the Thai rice industry is being squeezed by tough competition in the world market and that development of Thai rice production and trading is lagging.
Somchai Jitsuchon, research director of TDRI, said Thailand needs to formulate a clear-cut strategy to develop its rice industry from farming to marketing since Thai rice trading competitiveness has dropped in the past year.
The study showed that the rice sector is handicapped by many problems like low quality grains, unsuitable plantation areas for each kind of rice, slow progress in irrigation systems, lacklustre development of rice breeds and higher costs of production, while yields remain low. Government agencies, including the Agriculture and Commerce ministries, and rice exporters have also fumbled with close cooperation to connect rice production and trading development.
"Amid the sluggish development of Thai rice production and trading, Thai rice has been quoted higher than its rice rivals by US$100 [Bt3,200] per tonne because of the highly subsidised price, leading Thailand to lose market share to other countries and destroying opportunities for Thai rice to penetrate new export markets," he said.
The government should consider reviewing its rice pledging policy to reduce the impact from the overly subsidised price on the country's export competitiveness. It should also focus more on Asean free-trade agreements and clearly categorise Thai rice standards in order to serve the requirements of each rice consuming country, he said.
The study also showed that the yield of the main rice crop has plummeted by 17.26 per cent over the past decade to only 326 kilograms per rai this year. Last year, the yield was 394kg, while in 2010 it was 404kg.
Shipments of Thai rice have fallen sharply by 44 per cent year on year from 5.48 million tonnes to 3.04 million tonnes from January 1 to June 8.
Somchai said the government should work with the private sector to urgently solve the problem of declining efficiency in rice production and trading.
He suggested a six-pronged strategy of production development, increased value-added for Thai rice, improved logistics efficiency, new innovations and new technology, review of the government's policies on rice, and alliances for promoting exports and growth in rice farming.
Benjawan Ratanaprayul, director of the Commerce Ministry's Bureau of Trade and Economic Policy, said the government would consider the strategy to strengthen exports of Thai rice and other products.
Besides the rice sector, the study also focused on increasing export opportunities for Thai fruits, garments and tourism, which are the products and service that Thailand has high competency in to increase trading.