Zambia Daily Mail | 6 June 2012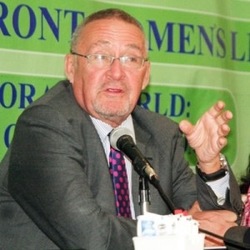 Zambia's Vice President Guy Scott speaking at a ground-breaking ceremony at US farm equipmant manufacturer AGCO's 150 ha
model farm
in Chongwe.
By CLAVERMUTINTA
VICE-PRESIDENT Guy Scott has called on private companies in the country to invest in agriculture and commercialise the sector to boost production of more maize for export.

Dr Scott said Zambia is endowed with vast tracts of arable land which private companies can take advantage of and engage in commercial farming.

He said there are many resettlement schemes across the country which can be used for agriculture.

Dr Scott was speaking in Chongwe on Monday during the ground-breaking ceremony for AGCO agriculture plant. He said there are 800, 000 hectares of land available on resettlement schemes.

He said the companies involved in agriculture should pilot their ideas before implementing them to avoid making mistakes like what happened at Zambia Cashew Scheme where wrong varieties were planted.

"They (Zambia Cashew Scheme) planted four million trees of wrong varieties in the area which was not suitable for such trees, so I encourage you to take a very good approach to your strategies," he said.

He said institutions like AGCO are visionary and can train Zambians, including students from higher learning institutions, in best farming practices.

Dr Scott also said companies involved in mechanised agriculture and related activities should be mindful of the environment in which they operate and be considerate with communities around them.

He said displacement of people is a risk which Zambia is likely to encounter when companies that engage in farming become more mechanised.

Dr Scott said Government will not allow displacement of people by farming companies.

And senior vice-president for Europe, Africa and Middle East AGCO Hubertus Muehlhauser said the global population is growing rapidly and this calls for increased food production.

He said there is abundant arable land all over the world which is not developed and can be used to grow more food.

United States Ambassador to Zambia Mark Storella said it is important to build capacity in Zambian farmers by teaching them better farming practices to enhance food production in the country.