Reuters | 1 June 2012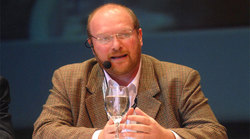 Gustavo Grobocopatel, CEO of Los Grobo. To finance expansion in Brazil, the company sold 20 percent of its grains-producing arm Ceagro to Japan's Mitsubishi Corp for about $45 million.
(Reuters) - Argentina-based grains producer Los Grobo sees sales rising 30 percent next year thanks mostly to brisk growth in its operations in neighboring Brazil, the company's president said on Friday.
Argentina and Brazil are two of the world's top grains suppliers. Los Grobo, controlled by Argentina's Grobocopatel family and based in the Pampas town of Carlos Casares, also has operations in Paraguay and Uruguay.
The company has about 280,000 hectares (692,000 acres) under cultivation including rented and self-owned fields. Besides farming soy and other grains, Los Grobo provides logistics services and loans. It also produces sugar and ethanol.
"Most of the (revenue) increase is going to be in Brazil, thanks to an increase in production and services," Gustavo Grobocopatel told the Reuters Latin America Investment Summit in Buenos Aires.
He estimated revenue of between $1.4 billion and $1.5 billion in the 2012/13 agricultural campaign compared with the $1.1 billion projected for the current 2011/12 season, when drought hit crops across the southern cone.
Strong buying of South American grains and biodiesel over recent years has attracted investment to the region's farm sector. With the United Nations projecting that world food demand will double by 2050, farmland values have shot higher.
The climbing cost of doing business in Argentina has pushed Los Grobo toward focusing its expansion in Brazil, Grobocopatel said. "The increasing cost of transport, manpower, land rentals and tax rates also comes into the picture," he added.
Annual inflation is estimated privately at 25 percent in Argentina, driving wages higher, while the peso currency is being allowed to depreciate much more gradually by the central bank.
Argentine growers also complain about a 35 percent tax on soybean exports and government curbs on imports, which sometimes make it hard for farmers to buy fertilizers and insecticides.
Los Grobo plans to expand its cultivation in Brazil to 90,000 hectares in the 2012/13 crop year from 60,000 hectares today.
To finance expansion in Brazil, the company sold 20 percent of its grains-producing arm Ceagro to Japan's Mitsubishi Corp (8058.T) for about $45 million.
Grobocopatel said at the time that the deal would give his company capital to expand at a time of high soy and corn prices, strong Asian demand and tight global supplies.
The area in Argentina under cultivation by Los Grobo will meanwhile fall next season to 50,000 hectares from 80,000 in the 2011/12 crop year. But Grobocopatel said an increase in the company's service business in the country should keep net income steady in the 2012/13 crop year.
Grobocopatel said the company would keep looking for a chance to sell shares in Brazil, after cancelling an offering in September due to unfavorable market conditions.
"The company is prepared for an IPO (initial public offering), but we don't know when it will be. That depends on the market and how business opportunities evolve," he said.
Argentina's Pampas farm belt was parched by a six-week drought just as soy and corn crops were flowering in December and January, slashing yields. Heavy rains last month that flooded some fields have further dimmed harvest prospects.
"Soy production in Argentina is going to be less than 40 million tonnes, and the corn harvest is expected to be reduced by 30 or 35 percent," Grobocopatel said.
Argentine 2010/11 soy output was 48.9 million tonnes, while corn came in at 23 million tonnes.
Follow Reuters Summits on Twitter @Reuters_Summits
(Writing by Hugh Bronstein; Editing by Dale Hudson)