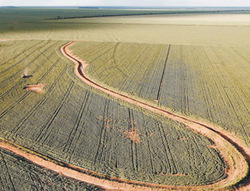 UK-based Valiance, which manages money for clients including banks, family offices and pension funds, will inject $239min into the Brazilian farm operator.
Agrimoney | 31 May 2012

SLC wins $239m for Brazil land purchase spree
SLC Agricola, the Brazil farm operator with large ambitions in farmland acquisition, sealed a cash injection from fund manager Valiance Asset Management for a business aimed at turning scrub into "high-quality" farms.
SLC Agricola, which in February unveiled a target of
growing its landbank to 700,000 hectares by 2020-21
, including foreign expansion, said that Valiance was to become a minority shareholder in its SLC Landco business, aimed at "the transformation of raw land into high-quality farmland".
The deal will see SLC initially place three farms, totalling 61,124 hectares, into Landco, into which Valiance will invest an initial $29.5m.
This payment will be followed by three further tranches, the last in September 2014, totalling $238.6m, and raising Valiance's shareholding to 49.4%, with SLC holding the balance.
Keeping SLC as the majority shareholder will respect "the sensitivity around foreign ownership of Brazilian farmland", the farm operator said.
Target area
SLC said that the cash injections "will be used in the acquisition and development of new agricultural areas" in Brazil, a country in which Jan Pensaert, the founder of Valiance Asset Management, has long held an interest in owning land.
Mr Pensaert said two years ago that he was particularly interested in the north east frontier of Mapitoba, in which SLC
bought three farms late last year
.
"That's the region with the most infrastructures upside. The climate is good, the topography is good. You're next to the rain forest so there is a lot of cloud formation, precipitation," Mr Pensaert told a conference in Geneva.
He added that agriculture has "very low correlation with the S&P 500, so it's a very good diversifier".
Valiance, which has offices in Guernsey and London, manages money for clients including banks, family offices and pension funds.
SLC-appointed boss
Landco will, after purchasing plots, clear and develop them before leasing them for farming to SLC Agricola, a major producer of corn, cotton and soybeans.
The tie-up will be run by Gustavo Lunardi, a land expert at SLC, and one of at least members appointed by the farm operating to the Landco board.
The board overall will number between five and seven members, including up to three independent directors, and backed by an investment committee.
'Embodiment of the next revolution'
Brazil is still seen as one of the great agricultural frontiers, despite significant growth already, with Macquarie this week terming it "the embodiment of the next revolution" in agriculture.
The country holds significant room for arable expansion before touching its large expanses of rainforest, with areas of pasture, at 521m acres, and cerrado, at 162m acres, far outsizing the 174m acres under crop, including 19m acres of sugar cane, Macquarie said.
However, the country has a
significant infrastructure shortage
– raising transport costs and underpinning prices of corn and soybeans worldwide.