The Land | 29 May 2012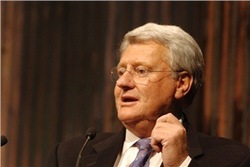 PrimeAg chief executive Peter Corish
The agricultural arm of the $US487 billion Teachers Insurance and Annuity Association has snapped up six farming properties from listed company PrimeAg Australia in a deal worth $36.7 million.
As revealed on the Financial Review website yesterday, TIAA CREF Global Agriculture's subsidiary Global Ag Properties Australia purchased the PrimeAg properties spread across southern Queensland and northern NSW at a 1.9 per cent discount to book value.
PrimeAg chief executive Peter Corish defended the discounted sale, which came after the company received criticism for conducting a dilutive capital raising last year in order to pay for an investment in a new rural property fund.
Mr Corish said the farms did not contribute to economies of scale as much as other properties, but there would be no more large scale sales like this one. He said proceeds from the sale would be used to implement a buyback of up to 10 per cent of shares in the company.
"Under the current market conditions selling these properties at close to market value and using the proceeds for buying back stock is a better use of capital," Mr Corish said.
He said the discount on the sale was better than the discount on the company's current share price to net tangible assets of about 20 per cent. PrimeAg shares closed 1.4 per cent higher at $1.09.