Daily News | 22 May 2012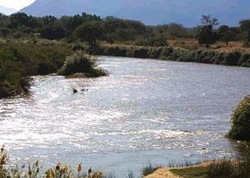 The Rufiji River Basin is a the target of many large-scale foreign agriculture projects in Tanzania.
STATISTICS revealed late last year showed that since independence, Tanzania has been facing shortage of sugar for both industrial and domestic use.
Recent official government sources reveal that Tanzania's sugar consumption stands at 480,000 tonnes per annum, but the four factories, namely the Tanganyika Plantation Company (TPC), Kilombero, Kagera and Mtibwa Sugar produce only 320,000 tonnes. This translates to a current deficit of 160,000 tonnes of sugar, with the excess demand filled by importation.
Tanzania's local sugar supply deficit is supplemented by expensive imports, because the government recently decided to allow emergency import of 120,000 tons to reduce the supply-demand gap. According to the Private Sector Development Unit of the Ministry of Agriculture and Food Security, Tanzania's sugar demand last year was more than 330,000 tonnes, while its production stood at 250,000 tonnes, creating a deficit of nearly 80,000 tonnes.
The retail cost of sugar rose to 2,500/= from the government manufacturers recommended price of 1,700/- per kilo in retail outlets. Following shortage of the sweetener in the other East African Community partner states, sugar from Tanzania is smuggled there where it fetches higher prices.
The situation has led to shortage of the item in the country, which many analysts say is behind the spiraling of the item's wholesale, sub-wholesale and retail prices. Kenya and Uganda are known to be facing an acute shortage of sugar that has prompted the smuggling of the sweetener from Tanzania, where the price is lower.
From the above statistics and reports, it is obvious that demand for sugar is by far above supply, and the gap is not likely to be filled by current manufacturing companies in the foreseeable future. So far, current production in the country is only about two thirds (67%) of total demand, despite of the availability of plenty arable land and favourable climate suitable for sugarcane cultivation.
The project is therefore not only guaranteed of the local market, but also the East Africa Community market as our partner states of Kenya, Uganda and Rwanda are also faced with acute shortages which can only be supplemented by expensive imports.
This situation is set to change soon, thanks to Rufiji Sugar Plant Limited, the proposed sugar cane plantation and cane sugar processing project that has come to Rufiji District, Coast Region, within the Rufiji River Basin with good fertile land for cane growing and for development of cane sugar factory.
The project which is under the supervision of Mahakaushal Sugar and Power Industries from India is located about 175 kms from Dar es Salaam with good access roads with easy access to Dar es Salaam Port. Initially, 10,500 hectares of good arable land will be developed into sugar cane plantation, erecting a modern cane sugar factory which will incorporate amongst others, production of cane sugar, ethanol for blending with vehicle fuel and electricity co-generation using bagasse from the factory.
It is obvious that there is a need to develop sugarcane plantations with facilities for the production of sugar and utilizing sugar processing wastes to produce, ethanol as well as electricity co-generation for own use and sell excess capacity to TANESCO for the national grid.
According to Mr Nawab Raza, who is the Managing Director of Mahakaushal Sugar & Power Industries Limited, three villages, namely Tawi, Utunge, and Nyamwage in Utunge Ward, Rufiji District in Coast Region will be involved in this farming which is being promoted by Rufiji Sugar Plant Limited, a newly incorporated company formed to develop agriculture and agro-processing projects in the country.
Mr Raza says that Tanzania is well situated for the production of sugarcane in East Africa, simply because it has a wide variety of climatic and weather regimes with an area of 945,087 square kilometres and a population of over 40 million people, most of who are employed in the rural sector.
"Due to seasonal rainfall shortages, sugarcane farms in Tanzania are situated along river valleys to facilitate supplementary irrigation during the dry seasons,0" he says. According to statistics of Private Sector Development Unit of the Ministry of Agriculture and Food Security, current demand for sugar is 480,000 tonnes against local production which stands at only 320,000 tonnes at present.
About 14,000 small-scale farmers in Kilimanjaro, Morogoro, and Kagera regions grow cane to supplement the estates owned by sugar companies. The government is looking for more investors in sugar production to meet domestic demand as sugarcane farming and processing capacity in Tanzania is very small and cannot meet annual demand of sugar.
The directors of Rufiji Sugar Plant Limited have considered the opportunities existing in the sugar industry in the country and the company has since acquired suitable land for sugar plantations. The land measures 12,000 hectares, and more efforts are being made to acquire additional 15,000 hectares directly and also through outgrower schemes and small scale farmers in the neighbourhood.
A feasibility Study Report done recently indicates the project is technically feasible, financially and commercially viable, and environmentally sustainable. The total project cost is estimated at over 120 million US dollars (excluding initial working capital) of which the project promoters will provide 30,352,360 US dollars (25.25%) as equity while 89,836,700 dollars (74.75%) will be sought as term loan from local and/or financial institutions/commercial banks.
The project entails acquisition and registration of 12,000 hectares of land suitable for sugarcane farming in phase one of the project. It will also develop the land into sugarcane plantations. Implementation of this phase will involve procurement of heavy duty road construction and maintenance machinery and equipment, agricultural implements for land preparation, cane harvesting machinery, hot water treatment plant for seeds and transportation facilities.
Phase two will involve acquisition of 15 hectares more directly by the company and through out-grower schemes and small scale holders in the nearby villages. Further plans of this project include support to the establishment of block farming at our growers level, out grower organizational development, the rehabilitation of farm tracks and cane access roads for sugarcane out growers and the establishment of Trust Farm to support infrastructure maintenance.
The project will also support to improve synchronization of farming among small holders and improved agricultural practices and logistics management. The project site with the land measuring 12,000 hectares was recently acquired from Rufiji Basin Development Authority (RUBADA). It is located along Lower Rufiji River basin in Utunge Ward, specifically in Tawi, Utunge and Nyamwage Villages, Rufiji District, Coast Region.
The location is roughly 175 kilometres away from the capital city, Dar es Salaam. It is accessible through Dar es Salaam – Mtwara highway which is a trunk road. It is also estimated to be just 35 kilometres from Utete Township, the administrative centre of Rufiji District. The communication and infrastructure like power supply and transport in the villages are not yet well developed. The first process in sugar production in a sugar factory is the preparation of cane, before it is sent for crushing in the sugar mill.
A sugar mill consists of multiple sets of roller combinations. In each set, three rollers are arranged in a triangular format and are called: Cane of Feed Roller, Top Roller and Bagasse or Discharge Roller. Adaption of modern methods enables extraction of 93 per cent of sugar in cane and this is known as sugar extraction or simply extraction. The mixed juice contains particles of the bagasse which are removed before the juice goes for clarification.
Plans at Muhoro, Rufiji includes support to the establishment of block farming at out grower level, out grower organizational development, the rehabilitation of farm tracks and cane access roads for sugar out growers and the establishment of a new co –operative society for out growers, the modalities for the co-operative society shall be as under.
All the farmers in the Rufiji District can become members of the co-operative society by paying nominal member ship fee of 1000/-. Once the farmer is registered with the society, he/she can take from the society agricultural implements, seeds for plantation and fertilizers. Farmers can sell the produce to co-operative society, and the society in turn will sell the same to the sugar company.
The company plans to invest in co-operative society the funds needed to help out growers for the above. The company further plans as a part of social responsibility to construct schools, sports ground, health centres, and sufficient drinking water for the villagers in the district. The company further plans to construct rural roads for which there is no access till date.
The company will run community buses in the district to solve the problem of transport for villagers in the district. The district will be developed to a great extent both economically and socially. The company as stakeholders of the industry will go beyond company shareholders and investors, extending to employees, neighbouring communities, civil society, governments and consumers.
The expectations, roles and responsibilities of the company differ significantly but have to be considered by the industry and incorporated into operations and management plans. Managing the same throughout the lifetime of a business is extremely challenging, enhanced by the advances in technology making it easier for the consumers to observe and react to the actions of a company.
Guidelines and standards can be developed to aid investors to manage the challenges, but every scenario is different dependent on a multitude of factors including but not limited to the country of operation, its economic, social and political environment, culture and traditions, other industries, the environment, education and capacity levels, financial resources, natural resources and climatic conditions.