AP | 17 May 2012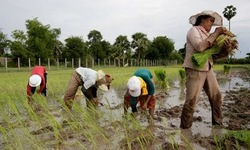 Rice farmers near Phnom Penh: Cambodia's system of commercial land concessions has been criticised as corrupt and prompted a UN inquiry. (Photo: Heng Sinith/AP)
Security forces have sealed off a village in eastern Cambodia and denied entry to human rights workers after the fatal shooting of a teenager in the latest violent eviction aimed at clearing land for development.
Soldiers said they needed to secure the area around Proma village, in eastern Kratie province, to continue the search for five accused ringleaders involved in a clash with security forces a day earlier, said Chan Soveth, a prominent investigator with Cambodian human rights group Adhoc.
He said journalists and human rights activists were initially moved to an area half a mile (1km) from the village but then pushed farther back, raising concerns about the soldiers' conduct and the safety of the villagers.
The interior ministry, meanwhile, issued a statement alleging the protesters were an "anarchic group" trying to set up a self-governing zone outside the law. It accused demonstrators of abducting two soldiers and seizing their weapons.
Cambodia's system of commercial land concessions, decried by activists as opaque and corrupt, has become a volatile issue nationwide and prompted a UN inquiry. Last month, a high-profile activist was shot dead by a military police officer after investigating illegal logging in a forest concession.
On Wednesday, hundreds of police and soldiers raided the settlement in Kratie province after community leaders rejected demands to vacate their farmland, officials said. Security forces clashed with about 200 villagers armed with axes, crossbows and sticks. A 15-year-old girl was critically wounded in the confrontation and later died at a hospital, said the provincial governor, Sar Chamrong.
"The soldiers told us we were not allowed to go inside to see the situation, "Chan Soveth said on Thursday. "We don't know what is happening inside. We are concerned for the safety of the villagers."
He said villagers who left the security perimeter were searched before being allowed to return home.
Authorities say the land is owned by the government, but the activists claim the previously state-owned land already has been awarded to a Russian company to be developed as a plantation. Villagers who have been farming the land for years say they have nowhere else to go.
The incident is the latest fallout from widespread evictions and land grabs that have sparked unrest nationwide, with deadly force sometimes employed by both public and private security forces.
The Cambodian prime minister, Hun Sen, issued a directive last week suspending new land concessions to private companies and ordering a review of existing deals. The move was announced during a visit by a UN human rights envoy who warned that land disputes in Cambodia must be resolved fairly and peacefully.