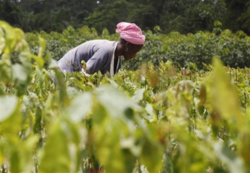 Activists warn that the G8's New Alliance to Increase Food and Nutrition Security aims at enabling big investors to own land in poor African countries like Tanzania.
The Citizen Reporter | 17 May 2012
Beware G8 motives, JK, others cautioned
By Bernard Lugongo
Dar es Salaam. The four African leaders attending the rich nations' meeting that opens in Washington today have been cautioned to be wary of the G8's New Alliance to Increase Food and Nutrition Security, noting that it poses a serious threat to small-scale farmers in Africa.
Activists are warning that Tanzania in particular ought to bear in mind that even though the country was is a dire need for massive investment in agriculture, the drive should not be pursued in a manner which might harm the interests of small farmers.
President Jakaya Kikwete is among four African leaders invited by President Obama to attend the summit to be held at Camp David in Maryland today. Other leaders are chairman of the African Union Thomas Boni Yayi, Ghanaian President Atta John Mills and Ethiopian Prime Minister Meles Zenawi.
Stakeholders are concerned that the new rich nations' alliance, to be launched during the G8 summit would further open doors to big foreign investors to invest in agriculture and in the process, thwart the growth of small scale farmers.
Speaking separately with The Citizen yesterday, they said the alliance aims at enabling big investors to own land in poor African countries like Tanzania.
"The big nations' move poses a very serious threat to the livelihood of small producers who make up a large number in the country's agricultural sector," said the HakiArdhi Executive Director, Mr Yefred Myenzi.
He also said commercialisation of agriculture, as a focus in the meeting, would lead to making it impossible for small farmers to access loans, as financial institutions would prefer conducting business with big farmers.
"It would be very hard for a peasant to have access to financial services, what with their low capital base," he warned.
The Network of Small Farmers in Tanzania (Mviwata) also expressed concern over the fact that currently, there were various cases of land conflicts between big investors and small farmers.
"Definitely, we want agriculture to change, but not through the annihilation of our small scale farmers," the Morogoro-based Mviwata executive director, Mr Stephen Ruvuga, said.
Mr Ruvuga said the new rich nations' alliance would culminate into the killing of small-scale farmers, reducing them to labourers and squatters in their own land.
He argued that the G8 initiative may not give out relief as expected for, after all, there have been such agricultural programmes meant to revolutionise the sector but they never succeeded in liberating the small farmers anywhere in the continent.
Legal and Human Rights Centre (LHRC) executive director, Ms Hellen Kijo-Bisimba, echoed the view, not that there was no need to focus on opening doors for big investors. Instead, she argued, there should be a drive to empower the country's small farmers for mass food production.
"If the G8 countries are truly keen on assisting us to attain a green revolution, they should mostly target small farmers so that they don't become labourers for big investors," she stressed.
She said the government should set aside land for big investors under the land bank programme while ensuring that small farmers are not affected by the big investments.
Mr Bubelwa Kaiza, executive director of Fordia, a non-governmental organisation that advocates faster development, criticised the move to allow investors from outside, saying the country wouldn't benefit from them because the bulk of their produce would be for export.
He noted that currently, the country was satisfied with food production by local farmers, therefore, there should be a drive to empower them for higher production.
Responding to the concerns, the deputy minister for Agriculture, Food Security and Cooperatives, Mr Adam Malima, allayed fears that opening doors to more foreign investors would lead to the eviction of small farmers.
He said the government was aware that the majority of Tanzanian farmers are of the small-scale category, thus, the government would ensure that they benefit from the big investment.
"We need to commercialise agriculture to make it efficient. It is not true that small farmers will be denied land for cultivation, given that only 15 per cent of Tanzania's arable land is under agriculture," he said.
He said the government would make sure big foreign investors acquire land allocated for commercial farming and not from areas where small farmers operate.
"G8 summit is an economic opportunity to make the country a true basket case for agricultural produce for internal satisfaction and external market," he said.
A group of continental protesters 'Stick to Africa's Plans' says the new alliance initiative charted by the G8 offers a silver bullet to divert attention from the group's failure to deliver on previous commitments, rather than a continued effort to fight hunger.