Hassad Foods and 250,000 ha of Australian farmland
Published: 07 May 2012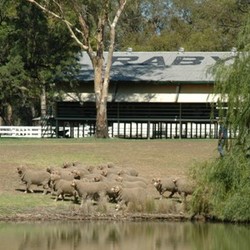 Raby Station at Warren, bought by Qatar Investment Authority's Hassad Food in 2010 after earlier buying Clover Downs at Cunnamulla from Clyde for $18.5 million and "Kaladbro Estate" in western Victoria for about $25m in late 2009. Hassad also bought 6800 hectares around Canowindra.
AllAboutFeed.net | 07 May 2012
Hassad Foods and 250,000 ha of Australian farmland
Hassad Australia, a subsidiary of Hassad Foods, a company owned by the Qatar government, has recently 40,000 hectares in western Victoria, The Land reported.
The acquisition brings Hassad Australia's total up to 250,000ha: farmland spread across Queensland, New South Wales, Victoria and Western Australia.
Hassad Australia chief executive Tom McKeon said that since the company's establishment in Australia its land purchases have been guided by risk minimising strategy. The lands are distributed across different climes and water regimes over a wide geographic area.
This distribution of risk is not surprising in light of growing food security concerns harboured by Middle East countries. In 2009 Hassad Foods established a 100% subsidiary in Australia, focussing on sheep and grains. In 2010 Hassad Foods announced it would invest up to US$700 million in projects around the world in order to ensure Qatari food security.
And beginning this year Qatari crown prince Sheikh Tamim bin Hamad Al-Thani issued a decree to organise the Qatar National Food Security Program (QNFSP), promoting domestic farming.
Securing water intensive crops and a reliable farm productivity formed the pillars of Qatar's food security programme, though this years annoucement may be an indication that Qatar is refocussing on domestic production.
McKeon states in the Land, seconds this: Qatar has realised that its overseas investments also have to succeed commerically, and not function solely as Qatari food reserves.