The Associated Press | 29 April 2012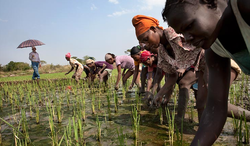 Sources told GRAIN that the Saudi Star farm (above) was attacked at about 6:00pm on April 28th, leaving four people dead: two Pakistani nationals working to advise the company on rice production and two Ethiopian "highlanders". Sources say the local populations working at the farm have fled for fear of revenge from the members of the army guarding the Saudi Star operation. (Photo: Johan Bävman/ Moment Agency)
ADDIS ABABA, Ethiopia -- An official says gunmen attacked a commercial farm in Ethiopia's western Gambella region and killed five workers.
Government spokesman Shimeles Kemal said Sunday that the attackers wounded nine people as they shot indiscriminately late Saturday at workers on the vast farm. The property is owned by Mohammed Al-Amoudi, an Ethiopian-born Saudi businessman who is among the world's richest men.
He said that among the dead were four Ethiopians and a Pakistani national. Five Pakistanis were among the wounded.
The official said six of the suspected assailants are now in police custody and that it is still unclear why the farm was targeted.
The farm produces cash crops such as rice.
----
Gunmen Kill One in Attack on Saudi Billionaire's Ethiopia Farm
By William Davison
April 29 (Bloomberg) -- Gunmen attacked the camp of an agricultural company owned by a Saudi billionaire in southwest Ethiopia, killing at least one person, Federal Affairs Minister Shiferaw Teklemariam said.
The assault on Saudi Star Agricultural Development Plc's premises in the Abobo area of Gambella region took place yesterday evening, Shiferaw said in a telephone interview today.
"We have a report that at least one person was killed," he said from the capital, Addis Ababa.
Ethiopia plans to lease out 42 percent of South Sudan-bordering Gambella to investors as part of a nationwide commercial farming drive. The U.S.-based advocacy group Oakland Institute says the program has led to rights violations and the forced relocation of more than a million Ethiopians. The government denies rights violations and says a resettlement program is voluntary.
Opponents of the relocation and farming program shot and killed 19 students on a bus 20 kilometers (12 miles) from Gambella town on March 12, according to the state-owned Ethiopian News Agency. There is "suspicion" that the same group carried out yesterday's attack, said Shiferaw, who is responsible for emerging regions.
Saudi Star, which is owned by Ethiopian-born Saudi billionaire Mohammed al-Amoudi, said in February that it wants to add another 290,000 hectares to the 10,000 hectares it intends to grow rice on in Gambella largely for export to Saudi
Arabia.
--Editors: Louis Meixler, Digby Lidstone.
To contact the reporter on this story:
William Davison in Addis Ababa via Johannesburg at
[email protected]
.