The Guardian (Nigeria) | 23 April 2012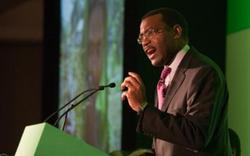 Minister of Agriculture and Rural Development, Dr. Akinwumi Adesina.
by JOKE AKANMU
THE World Bank has taken a step further to help Nigeria get over it dependence on oil and gas income, by accepting to support the country's Agricultural Transformation Action Plan (ATAP), with a whooping sum of $900 million (about N144 billion).
The financial assistance from the global financial institution is coming into the country for irrigation and to boost agricultural produce, which is expected to gulp $400 million and $500 million respectively.
The bank planned to support the country in the development of four major crops- Rice, Cassava, Sorghum and Cocoa. It is expected to spend part of the fund to transform Nigerian Agriculture Institute, in order to make it conform to global standards.
The Minister of Agriculture and Rural Development, Dr. Akinwumi Adesina, who disclosed this during a media briefing in Abuja, over the weekend, said the support was the outcome of a meeting with the senior directors of World Bank at the just concluded Nigerian Agribusiness Investment forum in Washington DC.
Disclosing that the World Bank officials would be in the country in two weeks time to access situation before granting the facility, he said they would further support the county in the development of staple crop processing zones.
Revealing some of the outcomes of the investment forum, Adesina said an America-based company has indicated interest in investing it resources to boost rice production through the cultivation of the same on 25,000 hectres of farmland in Sokoto, using Rima irrigation scheme.
In addition to this, he said a major U.S. company- Cargill, has also expressed interest in buying one of the large-scale, high quality cassava plants.
Lamenting that of the 300,000 tractors needed to enable farmers practices mechanized farming, only 20,000 were functional. To increase the number of tractor in the country, he said the largest tractor manufacturer, AGCO, has expressed interest to set up tractor assembly plants in Kaduna State to serve the North, and the South.
According to the minister, the World Cocoa Foundation has shown interest in the training of cocoa farmers in farm business and sustainable cocoa production. It would also, among others, assist in the establishment of the cocoa market and Training Corporation.
Disclosing that Nigeria would be importing 18 large scale of cassava processing plant to process about 1.3 million tonnes high quality cassava flour yearly, he said the foundation would support the government in distributing eight newly introduced cassava hybrids.