NZ Herald | 23 April 2012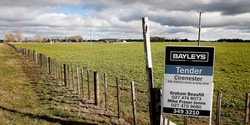 The Government-approved sale of the Crafar farms has prompted a hikoi. (Photo: Christine Cornege)
By Claire Trevett
The spokesman for Crafar farm buyers Shanghai Pengxin has dismissed concerns that the deal will result in an influx of Chinese buying up New Zealand farmland, saying there are plenty of farms for sale but no "army of Chinese investors" rushing to snap them up.
The Government approved the sale of the 16 farms to the Chinese company last week.
The decision has prompted an "Aotearoa is Not for Sale" hikoi, which starts at dawn tomorrow with prayers at Cape Reinga.
Spokesman Dean Baigent-Mercer said the march was about expressing opposition to privatisation of the country's assets, natural resources, land and public services.
Organisers aim to arrive in Wellington on Friday, May 4. Mr Baigent-Mercer expected a "wide-church" of interest groups to participate, including iwi, Greenpeace members and political parties.
A large protest is planned for Queen St in Auckland on Saturday, April 28.
There have been claims the decision effectively opens the floodgates for other buyers of New Zealand farmland.
Green Party co-leader Russel Norman said the Government had made it difficult to turn down future large-scale purchases of New Zealand farmland by Chinese companies.
However, Cedric Allen, the spokesman for Shanghai Pengxin in New Zealand, said there were hundreds of farms for sale at any one time and some had been on the market for over a year.
"There seems to be this impression out there that there is an army of Chinese investors waiting to swoop on New Zealand farmland. That is absolute nonsense. There is no queue of Chinese investors wanting to buy farmland in New Zealand."
-additional reporting Yvonne Tahana