New Zealand Council of Trade Unions Media Release | 20 April 2012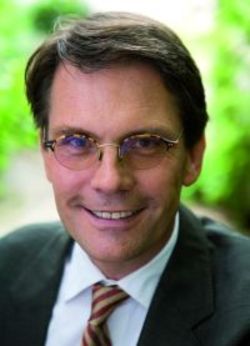 Detlef Schoen, Founder of Aquila Capital of Germany, which operates the AgrarInvest fund for around 1,000 German investors.. Through a German consortium with Neuseeland Milchfarm Investitions and Alceda Star and with the support of New Zealand's MyFarm, AgrarInvest acquired at least 11 dairy farms in New Zealand in 2010-11, making it one of the largest dairy producers in the country. Aquila is also targeting farmland in Brazil.
The estimate used by the Prime Minister John Key that less than 1 percent of New Zealand farmland is foreign-owned is far below the mark according to an analysis of Overseas Investment Office decisions carried out by CTU Economist, Bill Rosenberg.
"In fact a conservative estimate is 8.7 percent, or 1,261,000 hectares, in foreign ownership, including forestry – and it is artificial to draw a distinction between agricultural and forestry land", says Rosenberg.
He pointed out that Statistics New Zealand include plantation forests in what they describe as the total "land under farming" in New Zealand, amounting to 14,580,000 hectares ("farmland" in what follows). Land use can move from agriculture to forestry and back again.
"Given that the estimate is conservative, it is possible that we have reached a level of 10 percent of our farmland being overseas owned or controlled, including 4 percent overseas owned outright," Rosenberg says.
Rosenberg says that "although the Prime Minister spoke about 'foreign-owned' land, in fact his figures were based on Overseas Investment Office (OIO) statistics that included leases and other interests in land such as forestry rights. Even if only freehold land is included, a conservative estimate is that 3.2 percent of farmland is overseas owned."
"The Prime Minister has also said that the overseas investment regulations, changed in 2010, are working well, so there is little need for concern. But in 2011, the first full year following the change in regulations by this government, OIO statistics show that more freehold land of all types was sold overseas in net terms than any other year since 2001, with the exception of 2006, when Carter Holt Harvey sold its huge forestry estate", says Rosenberg.
Details of the estimates in the release:
• Rosenberg's analysis of OIO decisions shows that in all, 173,600 hectares of freehold and other interests in land under farming changed hands in 2011 to overseas owners – 1.2 percent of land under farming ("farmland").
• Of that, 95,900 hectares was agricultural land, which is 0.7 percent of all farmland in one year alone. That makes an estimate of total overseas ownership below 1 percent very difficult to believe.
• The estimate used for agricultural land is 2 percent of farmland (290,000 hectares), or about 3 times what was in overseas ownership or control ("ownership" in the Prime Ministers terms) at the end of 2011. It is estimated that half of this is freehold and half leased.
• Given that overseas land ownership has accumulated over several decades, this must be regarded as a very conservative (low) estimate, but there is no better data to go on. Better data is badly needed.
• Forest ownership data is published by the New Zealand Forest Owners Association[1]. Latest figures are as at April 2010 and show that at least 317,000 hectares of freehold are overseas owned, and that a further 654,000 hectares of other interests in land such as leases and forestry rights are overseas owned. That comes to a total of at least 972,000 hectares of forestry land overseas owned or controlled. It is "at least" that because the Forest Owners Association identifies the top 16 forest owners, allowing identification as to whether they are overseas companies, but there are another 662,000 hectares under smaller owners which can't be categorised and are assumed to be New Zealand owned.
• The 972,000 hectares is 6.7 percent of farmland, made up of 2.2 percent freehold and 4.5 percent other interests in land.
• Adding the forestry to the agricultural land makes 8.7 percent of farmland, of which 3.2 percent is freehold and 5.5 percent leases or other interests in land.
"From my analysis of OIO decisions, I estimate that 18,800 hectares net of agricultural freehold farmland sold overseas in 2011 which is again one of the largest of the decade. In addition a net 23,700 hectares of leasehold agricultural land was sold overseas."
Rosenberg says that the basis for the Prime Minister's statement that agricultural farmland sales in 2011 were low appears to be information from the OIO whose method of analysing sales significantly underestimates agricultural sales. Its 2011 statistics show sales of agricultural land to overseas buyers were a net 15,242 hectares. Yet that was exceeded by one sale alone – the 22,211 hectares of Crown Pastoral Lease sold at Coronet Peak station to a company owned by Shania Twain's former husband Mutt Lange. "I calculate a net total of 42,500 hectares of agricultural farmland were sold overseas in 2011", Rosenberg says.
"It is remarkable that the sales of agricultural freehold land to overseas buyers for 2011 were approximately 6.5 percent of all such land sold that year in New Zealand. If only 1 percent of such land is overseas owned, either the proportion is increasing rapidly or there is a very high churn in overseas ownership, not boding well for long term investment in agriculture", Rosenberg pointed out.
His full analysis will be published in the next issue of Watchdog, the magazine of the Campaign Against Foreign Control of Aotearoa (CAFCA). The organisation recently received a letter from the Minister of Land Information in response to an official information request to the Prime Minister asking for the information on which he based his "1 percent" estimate. The article can be found here
http://goo.gl/0zE0J
.