Implications of foreign-owned land noted
Published: 17 Apr 2012
Country World | 17 April 2012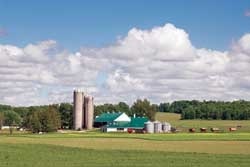 The 2010 AFIDA report shows that through 2009, 22.2 million acres, or 1.7 percent, of U.S. agricultural land is foreign-owned.
By CLAY COPPEDGE
When University of Texas faculty member John Doggett spoke at the Governor's Ag Conference in Nebraska recently, he stirred up echoes of an issue that has been largely dormant in America for the past few years, but one that he said will soon return.
While foreign land owners do not have a large stake in Texas yet, experts advise that the situation could change. -- File photo
Doggett told the conference that it's only a matter of time until China starts buying agricultural land, especially in the Midwest where profits have been high. China, he said, has the highest rate of economic growth than any country in history, but is running out of land on which to grow food to for its people. He noted that more than a million Chinese farmers are "on the ground" in Africa and producing food in that country.
Not everybody was sold on the idea that Doggett was pushing. Nebraska Governor Dave Heineman said that 15 years ago "we heard that the Japanese were going to take over America. It didn't happen."
Back home in Texas, Doggett said the situation is different now because of China's $3 trillion in financial reserves and its very real need to feed its people. In certain parts of this country, agricultural land is seen by other countries as a good investment. That's not necessarily the case in Texas, he said.
"Other than Mexico, if you are a foreign investor and you're looking to buy agricultural land, the stories coming out of Texas about the drought is not going to make you necessarily say, 'Hey, I want a piece of that!' Of course, that could change if the situation changes," he said.
Charles Gilliland with the Texas A&M University Real Estate center said there have been times when foreign investors put money into Texas agriculture, but the ventures did not go well.
"There was a lot of activity a few years ago, primarily focused on timber," Gilliland said. "Foreign buyers were investing in timber across the country and in East Texas. Most of the companies were owned by the John Hancock company, which is owned by a Canadian group. That means they have to register with the USDA. "
According to the law, foreign owners of U.S. agricultural or timber lands are required to report their holdings and any transaction relating to those holdings to the U.S. Secretary of Agriculture by filing Agriculture Foreign Investment Disclosure Act (AFIDA) reports with the Farm Service Agency (FSA) for the county where the land is located. Failure to file the report can result in a penalty with fines up to 25 percent of the fair market value of the agricultural land. For the purposes of AFIDA, agricultural land is defined as any land used for farming, ranching or timber production if the tracts total 10 acres or more.
"The requirement for foreign owners to report their holdings came about in the late 70s when the Prince of Lichtenstein bought a lot of farm land and hardly anyone knew it," Gilliland said. "There was a push to make this kind of thing public. I don't know if he was really a prince or if it was just a courtesy title."
He was a real prince. Prince Franz Josef II of Lichtenstein became a Texas farmer in 1977, when, acting through a Paris, Texas lawyer, he bought a 16,916 acre ranch from the heirs of a northeast Texas farmer. When a special session of the Texas Legislature was considering Gov. Dolph Briscoe's proposal to tax farmland on the basis of what it can produce rather than its market value, the question was asked: who are the big owners of this land? No one knew. The search to find out led to Prince of Lichtenstein and others.
"Long story short, they lost their shirt during the downturn of the early 80s," Gilliland said. "They found out the hard way how unpredictable American agriculture can be."
Gilliland wrote a report in 2007 about foreign investment in Texas agriculture land. At that time, Maine had the most acres of foreign-owned ag land in the country and Texas was second. The 2010 AFIDA report shows that through 2009, 22.2 million acres, or 1.7 percent, of U.S. agricultural land is foreign-owned. Maine is still the leading state in that category, but Texas is no longer listed among the top-five states. Nor is China among the top-five countries that own agricultural land.
In a 2009 report, Gilliland wrote about how the economic downturn of 2009 rattled the real estate market for ag land, as farmers over much of the country enjoyed record-high prices and good yields and began investing some of the money they made into more farm land. Institutional investors (including those from other countries) were frustrated as farmers outbid them for land. The would-be investors concluded that farmers were willing to accept a very low return on their investments.
"With no alternatives that would yield strong returns, however, and possessing equipment that can effectively work the land, farmers can afford to be the highest bidder," Gilliland wrote.
"To this point, the amount (of foreign-owned agricultural land in Texas) is not significant enough for us to pay much attention to," Gilliland said. "We always take a look at what goes on with it, and we know that it could change."
If it does change the way Doggett thinks it will, he believes the implications will be significant.
"One thing we do know is that with a lot of these investments, the Chinese will want the output of that land, which is going to increase exports," he said. "There is some thought out there that this could eventually do away with, or decrease, the need for farm supports."