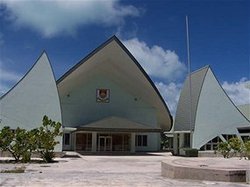 A session of the Kiribati parliament, beginning today is expected to approve the deal to buy a 2,200-hectare estate on the Fiji island of Vanua Levu. [Flickr: Jopolopy]
Australian News Network | Mon, 16 Apr 2012
Kiribati 'not contemplating moving people' to Fiji land purchase: Tong
The Kiribati President, Anote Tong says there are no plans to begin moving people to newly purchased land in Fiji.
A session of the Kiribati parliament, beginning today is expected to approve the deal to buy a 2,200-hectare estate on the Fiji island of Vanua Levu.
Mr Tong has told Radio Australia while the purchase is part of the islands' strategy to deal with the risks of climate change, it's not planned as a refuge for its people.
"We're not contemplating moving people at the moment, that's not been the primary objective for the land purchase," he said.
Locals living on the low-lying atolls of Kiribati are already being confronted by rising sea levels, prompting speculation the land-purchased could be used as a refuge for people whose islands are being affected by climate change.
Mr Tong, says the estate is rich agricultural land, and its role is more likely to be based in food security.
"There is a farm, but there are also pine trees growing that are ready to be harvested," he said.
"So that land in Fiji is very fertile, much more fertile than you'd ever find in Kiribati.
"Perhaps in time it might become a fall back position for the food security situation if it ever gets worse, as it is projected to be."
Mr Tong also says the rich agricultural land is seen as a long term investment for Kiribati's economy.
"Essentially it would be an investment," he said.
"At the moment, we invest our funds in bonds and securities overseas. What this would do is begin the diversification of our investment portfolio."