The Financial Express | 9 April 2012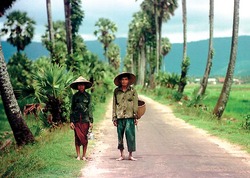 Myanmar diplomatically bypassed a Bangladesh proposal last year for taking agricultural land on lease for cultivation in that country.
Bangladesh, April 9 -- Myanmar has sought cooperation from Bangladesh to augment its agricultural production, mainly its staple - rice, officials and diplomats said on Sunday.
The assistance has been sought recently as Myanmar adopted a policy to increase rice exports gradually from the current fiscal year following decades of virtual international isolation under military rule and imposition of Western sanctions.
"Myanmar has asked for necessary cooperation in the agriculture sector and we have accepted the proposal in principle to help the neighbouring country," a senior official at the Ministry of Agriculture (MoA) told the FE.
"It is just a beginning and both sides will have to sit for several rounds of talks for finding probable modalities before going ahead with the cooperation," the official said.
In the recent months, Myanmar officials showed great interest in Bangladesh's policy on agriculture, which envisages extending full-scale assistance including know-how to farmers, through which the country could increase its agricultural output, an official of the Foreign Ministry said.
Bangladesh, which faced a kind of food scarcity with its then population of some 75 million in 1974, has been producing sufficient food for its 160 million people over the last few years, officials at the Department of Agricultural Extension (DAE) said.
The farmers in the country have become successful in increasing food production following the government policy of extending relentless assistance to them by providing agricultural inputs including fertilisers, power for irrigation, etc.
However, Myanmar diplomatically bypassed a Bangladesh proposal last year for taking agricultural land on lease for cultivation in that country.
"Shifting from that position, they are now seeking our cooperation to boost food production in Myanmar," Foreign Ministry officials said.
By putting to use the optimum efforts to cultivate its agricultural lands, Bangladesh has raised its rice production to 34.25 million tonnes in 2011, agricultural experts observed.
However, having a geographical land mass more than five times bigger and less than half the population compared to that of Bangladesh, Myanmar's annual rice production still remains less than 34 million tonnes a year.
Despite a gradual rise in rice production, Bangladesh with its 160 million people still has to import some half a million tonnes of the food grain annually to keep the local market stable.
Although rice production is much lower in Myanmar in comparison to its vast area of some 261,970 sq miles (678,580 sq km), the country exports a substantial quantity of rice annually.
However, Bangladesh has yet to fully mechanise its cultivation, except introduction of a few tiller-machines at field level by some big farmers, DAE officials said.
In fact the authorities in Bangladesh do not encourage full mechanisation of the agriculture sector for the sake of employment. The agriculture sector employs some 60 per cent of the country's workforce.
Myanmar has taken a plan to increase its rice exports by 20 per cent to 1.0 million tonnes in the current fiscal year of 2012-2013 (which began on April 1 and will come to an end on March 31, 2013). Published by HT Syndication with permission from The Financial Express.