NZ Herald | 4 April 2012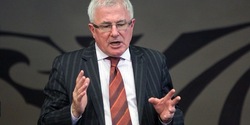 Trade Minister Tim Groser (Photo: APN)
By Fran O'Sullivan
Focus now on investments that are less likely to spark opposition, writes Fran O'Sullivan
The Government clearly hopes the Crafar Farms' controversy will be put to bed before China's fourth-ranked leader Jia Qinglin visits Christchurch and Wellington in mid-April.
Jia's 130-strong entourage will include several major Chinese investors in New Zealand companies. Many of them will be on a shopping mission armed with capital, manufacturing capacity, distribution channels and commercial links to the rapidly evolving Chinese consumer market.
It was earlier hoped that Jia might announce special Chinese Government financial assistance to rebuild Christchurch. But that is now doubtful.
Since Justice Forrie Miller ordered Cabinet Ministers to go back to the drawing board and reassess Shanghai Pengxin's application for Overseas Investment Office (OIO) approval for the 16 dairy farms, major foreign investments in New Zealand have tailed away.
The Miller decision established that the OIO and ministers applied an incorrect test when they determined the likely benefits to New Zealand from selling the farms to the offshore investor.
The judge said the correct test was to assess the benefits against a different counterfactual (what would happen if the farms were not sold to the overseas investor) rather than against the status quo (the land remaining in the seller's hands) as the OIO and ministers had done.
The upshot is widespread confusion as it is has become clear that the decision affects not just farmland sales, but also foreign acquisitions of New Zealand businesses worth more than $100 million that also happen to be on "sensitive land".
PricewaterhouseCooper's Colum Rice says "it is a hell of a mess".
"John Key and Bill English understand the importance of foreign direct investment," he says. "But the decision has created a serious impediment to large-scale investment because it has created uncertainty."
Rice, who heads PwC's transactions services group and is also its China spokesman, says significantly large transactions are now on hold.
"We need to remember that foreign investors have a choice. If people do not know what hurdles are here, it makes other countries look more attractive."
Rice's stance is mirrored by key bankers, lawyers and investment advisers canvassed by the Herald in New Zealand and China over the past fortnight.
There is political embarrassment at the highest level.
Trade Minister Tim Groser deliberately refrained from openly discussing the implications of the Miller decision during his high-level talks in Beijing two weeks ago. Groser is a strong advocate for foreign investment, making the point that New Zealand's paltry domestic savings record means we are dependent on foreign capital. "There would be large unemployment queues without foreign investment."
Chinese political consul Cheng Lei has not held back.
Asked at a Wellington embassy briefing what the consequences for Chinese investment in New Zealand would be if the Pengxin bid was ultimately turned down, he replied. "I cannot speak for Chinese enterprises but but from my own viewpoint, maybe they would have a second consideration after your hypothetical projection, as to whether or not China's big or small or medium enterprises will invest in your country in the future.
"Australia, the United States, the United Kingdom, any member of the European community, I think they would take a very cautious stand as for the future investment of your country, but that's my own viewpoint."
Cheng may have been "speaking personally".
But it is instructive that Chinese Commerce Minister Chen Deming is understood to have used similar words (twice) during his recent meeting with Groser. Go figure.
Jia was scheduled to visit New Zealand last April. But the trip was deferred because of the February 22 earthquake.
He is the fourth ranking member of the Chinese Politburo and chairman and party secretary of the National Committee of the People's Political Consultative Conference. A couple of memorandums of understanding are expected to be signed during the visit.
But an expected MOU between the China Development Bank and the Canterbury Earthquake Recovery Authority (CERA) may be deferred. If this occurs, the official excuse will be that CERA is not yet ready.
KPMG's Tim White says New Zealand needs capital for infrastructure and rebuilding earthquake-devastated Christchurch. But White observes New Zealand has not prepared itself for the major interest from China and elsewhere in acquiring land.
Neither had the Government prepared itself for the backlash against Chinese investment in farmland.
Official attention is now turning towards packaging up investment opportunities that are less likely to spark opposition.
Groser points to a proposal to investigate whether Chinese firms might invest in establishing new wood processing capacity within the central North Island which would run by geothermal energy. This would take advantage of low freight rates as a result of the many empty containers on ships heading back to China after delivering Chinese-manufactured goods here. The upside is more jobs for New Zealanders and less pressure on China's energy supplies.
New Zealand Trade Enterprise is funding an economic feasibility study. The NZ Super Fund may get involved if the proposal develops legs.
The Chinese bid for Crafar farms has exposed a level of antipathy towards foreign investment which has not surfaced after similar acquisitions by nationals from other countries.
"It is important to note that China is switching from being a net foreign direct investment importer to an exporter of FDI," says ANZ Asia-Pacific chief economist Paul Gruenwald.
"FDI should follow trade."
Gruenwald believes the current antipathy to Chinese foreign investment will diminish over time as the Western world becomes more comfortable. He likens it to the opposition Japan and South Korea faced at a similar time of their own external expansion.
But some Chinese investors are leaving nothing to chance.
A major Hong Kong investor backed away from making a bid for a local energy company telling its advisers that uncertainty had killed the prospective deal.
Chinese investors are interested in investing in New Zealand's agricultural industry - or "soft commodities" to use Gruenwald's term.
They are also interested in cleantech.
It is possible that an MOU between New Zealand's LanzaTech and China's China's Shougang Group will be witnessed during the Jia visit.
The Kiwi cleantech company established a joint venture to construct a demonstration plant at one of Shougang's steel mills in China. This is expected to lead to a commercial production facility in 2013.
Beijing advisory firms emphasise the trend will not diminish.
China has embraced globalisation and companies armed with well-priced finance are chasing "trophy brands." They face no problems gaining approval from Chinese authorities to invest in sought-after assets in the dairy industry.
But not all goes to plan.
Cabinet ministers courted Huawei to invest in the development of an ultra-fast broadband in New Zealand. The Government has faced criticism after revelations that the US and Australia have banned similar involvement by Huawei saying the giant telecommunications company could be spying for the Chinese Government.
Says Groser, the beauty of New Zealand's independent foreign policy is that "we do not have to choose sides".