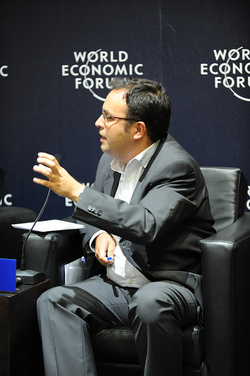 Karim Sadek of Citadel Capital
Africa Assets | Friday, 23 March 2012

Citadel touts African infrastructure projects, defends agribusiness investment
Egypt's Citadel Capital has been busy promoting its work in Africa this week. Co-founder and Managing Director Hisham El-Khazindar
gave the keynote address
at the Private Equity World Africa conference in London on 21 March 2012. He spoke about the nature of African private equity ‑ "more entrepreneurial, more about building new businesses through greenfields, rollups and brownfields and much less about LBOs" ‑ and asserted that there were no less than 21 countries in Africa that offer opportunities for PE investors looking for superior returns. Citadel is working to bring DFIs and commercial financiers together to fund the turnaround of East Africa's Rift Valley Railways (RVR), one of the largest PE investments in the sub-region to date.
Meanwhile, in South Sudan, his fellow Citadel MD, Marwan Elaraby was
speaking at the South Sudan Investment Summit
in Juba (held from 20 to 22 March 2010) about the firm's aim to improve food security in the troubled new state through its investment in Concord Agriculture. Citadel argue that commercial agriculture offers the best route to sustainable food production and can co-exist beneficially with local communities and small farmers. Of course not everyone agrees.
Yet another Citadel MD (so helpful that they have so many!), Karim Sadek, published
an editorial in the Nairobi Star
on 21 March in defence of the Concord project against criticism from some equally chatty activists, the Oakland Group. Sadek's Star contribution was actually a response to one of Andrea Bohnstedt's Star
columns
, discussing the scarcity of reliable information in the land grab debate flagged in a recent World Bank report on large-scale land use. This poses obvious problems for the growth of agribusiness investing by private firms like Citadel – a popular sector for investors that is also in dire need of proper funding. Sadek writes that Citadel has taken a number of measures to ensure its agribusiness project in South Sudan benefits the local community and doesn't step on small farmer toes. But the many challenges Citadel and other agribusiness investors face – an uncertain legal environment, limited pool of local skilled labour, high production costs and rudimentary infrastructure, and shifty local politics – will not go away any time soon.