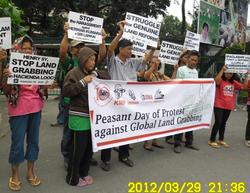 "The main issue in global land grabbing is the rights to land of peasants are violated.," said Danilo Ramos.
Asian Peasant Coalition | March 29, 2012
PRESS RELEASE
Stop devoting our lands for food security of other nations
Manila, Philippines --- At least 100 farmers joined a protest in front of the Department of Agriculture in Quezon City led by the members of the Asian Peasant Coalition (APC) in the Philippines such as the Kilusang Magbubukid ng Pilipinas (KMP), AMIHAN (National Federation of Peasant Women), UMA (Union of Agricultural Workers), and the PAMALAKAYA (National Federation of Small Fisherfolks of the Philippines). Also present is the Anakpawis partylist and the National Network of Agrarian Reform Advocates (NNARA)-Youth.
The farmers are protesting global land grabbing and are calling the governments in Asia to stop devoting their lands for food security of other nations.
"Approximately 365 million people in Asia derive their livelihoods from land. Unfortunately, the problem of global land grabbing by foreign investors and governments, extends elsewhere in Asia. Ever since high food prices in 2007 and 2008 raised the prospect of food insecurity for countries without much farmland, Kuwait, Qatar, Saudi Arabia, and the United Arab Emirates (UAE) have scoured Asia for land," remarked Danilo Ramos, secretary general of APC and the Kilusang Magbubukid ng Pilipinas (KMP).
"In Indonesia, 288,500 hectares of agricultural lands were acquired by KS Oils (India), Noble Group (Singapore) and Wilmar International (Singapore). The KS Oils is one of India's largest edible-oil companies. The Noble Group, is one of the world's largest global commodity traders and local communities were reported to have been paid as little as US$2.50 per hectare when the lands were acquired by Henrison Inti Persada. The Singapore-based Wilmar International is controlled by the Malaysian tycoon Robert Kuok, one of the world's largest palm-oil companies and a major sugar producer," Ramos added.
In September 2009, Wilmar International secured a permit to convert 200,000 ha of mainly forested land in Papua, Indonesia into sugar-cane plantations, as part of the Merauke Integrated Food and Energy Estate mega-project that the Indonesian government is pursuing.
According to Zenaida Soriano, APC Coordinating Council member and President of AMIHAN (National Federation of Peasant Women), "In the Philippines, 270,000 hectares of agricultural lands were obtained by Hassan Group (Bahrain), Itochu (Japan), Far Eastern Agricultural Investment Company (Saudi Arabia), Jeonnam Feedstock (South Korea), San Carlos Bio-Energy (United Kingdom), and South Korean government for their food and bio-fuels".
"The main issue in global land grabbing is the rights to land of peasants were violated. They are forcefully dislocated due to conversions of agricultural lands. They are pushing food production and bio-fuels mainly for profit of the capitalists," Ramos exclaimed.
"It is totally revolting that our lands are being devoted for the food security needs of other nations while the Filipino farmers suffer increasing landlessness, hunger, and poverty, "Ramos argued.
"If left unstopped, this global land grab will further destroy the small-scale farming, and rural livelihoods, in numerous places in Asia and around the world. We want genuine land reform," Soriano stated.
Solidarity action
The group said this is also their solidarity action to APC members in India demanding to halt the Russian-built Koodankulam nuclear plant in southern Tamil Nadu state. They stressed that the nuke is unprecedentedly dangerous and a threat to human existence because toxic waste from nuclear power plants continues to emit deadly radiation for up to 1 million years. They also urge the Indian government to immediately release unjustly detained anti-nuke activists.
Likewise, they are calling to stop the harassment against Herman Kumara, former Secretary General of the World Forum of Fisher People (WFFP) and the head of the National Fisheries Solidarity Movement (NFSM) of Sri Lanka.
The APC said they are celebrating its 9th year anniversary today and this rally is a kick-off of a year-long celebration of "A Decade of APC" that will end on March 29, 2013. #
--
APC Secretariat
Rm. 2, 2nd Floor
25-B Matiyaga Street, Bgy. Central
Quezon City, Philippines
Phone: +632-3793083
E-mail:
[email protected]
Skype: apc.secretariat
Web: www.asianpeasant.org