Business Standard | 26 March 2012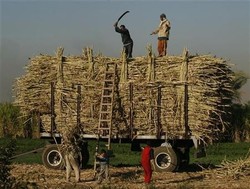 Karuturi is talking to a whole lot of farmers from India, Uruguay, Paraguay, Australia and from the United States to jointly work in cultivating other crops such as maize and other cereals on the lands it has leased in Gambela, Ethiopia. (Photo: Reuters)
Raghuvir Badrinath
Karuturi Global, the Bangalore-based publicly-held agri-commodities and flower exporter, is set to seal a joint venture with a leading sugar producer from India as part of its massive expansion in Ethiopia into agri-commodities. According to officials from Karuturi, the idea is to develop 5,000 TCD (tonnes crushed per day) which will require about 15,000 hectares of sugarcane plantations and the plant may cost in the range of about Rs 400 crore.
"We are in talks with four major sugar companies from India to set up a sugar factory as a joint venture with Karuturi. We will grow sugarcane and they will process the sugarcane. We have already sent RFPs and they have reverted with comments. We expect that by the end of March, we will finalise our partner," the official said declining to name the sugar majors who have shown interest. Karuturi has so far managed to plant sugarcane on over 100 hectares. Latin American agronomists from Uruguay and Paraguay have taken up the project and have been spearheading the planting this season as well as land clearance and development for the next season.
Karuturi Global, during the past three years, has been trying to be a significant player in the agriculture sector and had planned an ambitious $300 million investment over a period of time. But things have not been going according to plans for the company which is now among the top global exporter of cut roses. Accusations of land grabbing have been flying fast and thick against the company from various quarters and it was only compounded by the devastating floods in which Karuturi Global lost crops worth $15 million at a time when the things were falling in place. The company is presently developing 65,000 hectares, of which 10,000 hectares were damaged by flood.
"We have had many expectations on the agriculture project and unfortunately we have had many misses because of the very large nature of this project," the official added. However, the company is making concerted efforts to put things back on track and has almost tied up $180 million debt from a consortium led by Axis Bank. The company has an FCCB outstanding of $40 million which is due for redemption in October 2012.
To be more involved in Ethiopia, Karuturi might also look at a preference share issuance. "What we have applied for with the National Bank of Ethiopia are redeemable preference shares and, as and when we get the statutory approvals, we will consider a minor dilution which will be less than 3 per cent of our equity in Karuturi Agro Products. This step is mostly to overcome the unfortunate, but rather negative criticism mounted from some quarters about land grabbing by the company which is far from truth," the official noted.
As part of its strategy to get things going at a faster clip, the company is roping in partners in various aspects of this foray. Karuturi is also talking to a whole lot of farmers from India, Uruguay, Paraguay, Australia and from the United States to jointly work in cultivating other crops such as maize and other cereals.
Even as the company is trying to put things in place in Ethiopia, its plans for cultivating a clutch of crops in Karnataka with an investment of Rs 100 crore is also a non-starter so far. "We have been assured in the Karnataka government's agri-business investor conference that this 1,500 acres would be handed over to us very soon and we would be developing a pretty large and substantial food business on top of this line. But, we are still waiting for the Karnataka government to hand over the land to us," the official added.