Farm Weekly | 23 March 2012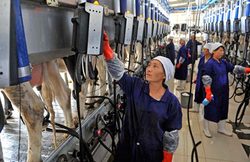 A dairy farm in Ningxia Hui autonomous region, China. (Photo: Xinhua)
TOM CLAPIN
THE Department of Agriculture and Food (DAFWA) has remained tight-lipped over Hangzhou Wahaha Group Co, China's biggest beverage producer hoping to invest about $220 million in the WA dairy industry.
It was reported on China Daily recently, that Hangzhou Wahaha Group Co chairman Zong Qinghou said the company had plans to invest in WA dairy farms in order to expand its import channels for milk.
"With the assistance from the State Government, the company is holding a three month survey of local dairy farms and will make a decision based on the results of the survey," Mr Zong said.
A DAFWA spokesperson said the attraction of domestic or international investment to WA was seen as important for the long-term development and success of the State's agriculture and food sector.
"The Department of Agriculture and Food assists prospective businesses and commercial interests, with information to enable them to assess the feasibility of proposed ventures and investments in the sector," the spokesperson said.
The Department admitted hosting recent delegations from the Hangzou Wahaha Group Co, and said it had provided information and expertise related to potential investment in the WA dairy industry and would continue to do so.
"But the department's specific activities with the Hangzou Wahaha Group Co are commercially confidential," the spokesperson said.
"WA has the capacity and opportunity to expand its agriculture and food sectors based on its excellent land and water resources.
"This expansion can help meet demand world-wide for increased food production and food security and provide new jobs, financial return and prosperity for WA."
With a decision on investment possible as early as June, Mr Zong said apart from premier quality of WA milk, the lower Australian milk prices were also attractive.
"We consume 50,000 tonnes of milk powder a year, half of which is imported," he said.
"Our investment in Australia's dairy farms and related industry chains will guarantee stable supplies of quality milk powder."
Scott River dairy farmer, Ross Woodhouse, confirmed he was one of the producers who was visited by the Hangzhou Wahaha Group Co and DAFWA and agreed the company was looking at what investment opportunities the WA dairy industry could provide.
While Mr Woodhouse didn't know how the company was planning to invest in the industry, he said it was looking at the WA dairy industry as a whole and everything it encompassed from infrastructure to transport.
"It was extremely reassuring that companies are looking at putting that sort of money into the WA industry," he said.
Mr Woodhouse agreed that Chinese investment could increase the demand for milk and help producers get around the supermarket pricing games.
"Dairy farming these days requires a large amount of capital investment and this sort of interest from the Chinese could encourage producers to help grow their businesses.
"I thought the opportunity was there for WA to double its milk output but now I think it could be possible to triple it."
But other dairy farmers are still not entirely convinced about Chinese investment.
Margaret River dairy farmer Miles Mottershead said he was unsure of what effect it may have on the industry.
"I'm not sure if it's a good thing or not," he said.
"In some respects it's a good thing but really I think the State Government should be sitting up and taking notice and sorting the supermarkets out."
While China's involvement may lift the price of milk and create an increased demand for WA milk products, Mr Mottershead said he would see how it panned out.