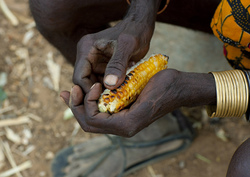 Angola Press | 23 March 2012

Angola to strengthen farming cooperation with Cape Verde
Luanda — The Angolan executive, through the Ministry of Agriculture, Rural Development and Fisheries, will give to Cape Verde in coming days about 7.500 hectares of land for farming production, in the framework of the reinforcement and expansion of bilateral relations.
This was said to the press on Thursday by the Cape Verdean Rural Development Minister, Eva Ordet, at the end of an audience with her Angolan counterpart, Afonso Pedro Canga.
Moreover, the official said that her country is interested to strengthen the cooperation with Angola in this domain, due to the opportunities of foreign investments in Angola.
According to her, Cape Verde depends 80 per cent of imports for food consumption, and this why Cape Verde is interested to finance projects in Angola.
"Angola will give to Cape Verde about 7.500 hectares for the cultivation of some products for further exports to her country", she said.
She said that her government is seriously interested to invest in Angolan soil in the cultivation of ceral, mainly maize, as it is the most consumed in Cape Verde.
According to her, the area to be explored will be located in Quibala district, central Kwanza Sul province.
On his turn, Afonso Pedro Canga highlighted the wish of Cape Verde to re-launch the ties between the two countries in agriculture sector, auguring significative gains for both states and thus generate more jobs, as well as contributing to the combating of poverty.