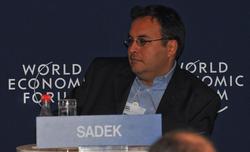 Citadel Capital believe that large-scale farming using global best practices is the most efficient, scalable and sustainable way to achieve food security
Nairobi Star | 21 March 2012
South Sudan: Concord doing good for country
By Karim Sadek

Opinion
The challenge of achieving long-term food security in Africa is real and the need is urgent.
Whilst the efforts of international advocacy groups are valuable in raising awareness, we must distinguish between cases of land grab and cases where real change will be delivered through responsible investment in sustainable agricultural businesses and related infrastructure.
That latter thesis is at the heart of Concord, an agri-business created in South Sudan and referenced in Andrea Bohnstedt's comment piece in the Star on Saturday, 17 March. The project is sustainably developing 250,000 acres of land to help improve food security and impart tangible socio-economic benefits to the surrounding community.
Concord, based in Unity State in South Sudan, is established on land obtained under a 25-year lease granted by the Government of South Sudan in 2009, ensuring land ownership is retained by the host country. We are mandated to fulfill specific requirements under the contract to ensure the investment is beneficial to the local community and host country. As agreed, we will grow desperately needed crops including wheat, sorghum and maize, all of it for local consumption.
We believe large-scale farming using global best practices is the most efficient, scalable and sustainable way to achieve food security while ensuring that smallholders and pastoralist migrants have access to land and resources as well as employment opportunities. Naturally, this point of view is not shared by everyone, certainly not the Oakland Institute, but ultimately, African nations need to depend less on inadequate development techniques and handouts and instead tap into innovative models presented through responsibly and ethically deployed private capital.
To put things in perspective, crop exports from South Sudan are currently not regionally or globally competitive. The direct cost of production is c.US$ 525 per acre, compared to an average US$ 325 per acre in developed agricultural economies (based on the same levels of crop inputs). The capital cost of development on site amounts to US$ 375 to US$ 400 per acre, compared to an average of US$ 225 to US$ 250 per acre in a developed agricultural economy. Transport costs, too, are amongst the most expensive in the world. Shipping a single 40ft container of agricultural equipment costs over $22,000 to clear and transport from the port of Mombasa to the project site.
Low current output, alongside substantial production and transport costs, compounded by the impact of unscrupulous middlemen, are reflected in the exceptional prices South Sudanese pay at market. A kilogram of maize costs US$ 10/kg, and a three-liter bottle of cooking oil US$ 16. In view of these dynamics, the urgent demand for safe, healthy and affordable food in South Sudan and a desire by government to curb imports, Concord was entirely conceived and built to serve local needs. It will continue to serve the needs of the domestic market for the foreseeable future.
To date, Citadel Capital has invested US$ 25 million in the project, which makes us by far one of the largest investors in South Sudan outside the oil industry. With the need to transfer knowledge to South Sudanese staff and build critical infrastructure, Concord will reach commercial viability in years, not months. This demonstrates our commitment to generating superior long-term returns through long-term investing that leaves the communities in which we do business better than we found them. Our goal is to make a profit, and thereby to help South Sudan address its pressing development challenges as a responsible development partner.
That's why we are re-investing a proportion of our profits in the local community, following community consultation on local priorities in order to improve livelihoods. That's also why Concord will only cultivate 120,000 acres of the total 250,000 acre site, which we will develop in a checkerboard form to respect the rights of the Fallata pastoralists, enabling them to maintain their annual migration routes and also preserve critical bio-diversity on site.
Concord's current full-time workforce has a 25% local component, far higher than other similar projects in South Sudan. Naturally, we would prefer to hire locally rather than engage foreign staff given the cost differential. That is challenging at this stage of South Sudan's development due to a shallow local talent pool with the required skills, an issue we are addressing through skills and knowledge transfer to build local capacity to work productively on the project. Bearing in mind the need to recruit specialist skills now whilst we build local capacity for the long term, we are tapping into an existing African talent base in mechanized farming from Zimbabwe. Over time, this investment in knowledge transfer will empower local residents with the skills to become well-paid, mobile members of a national workforce.
Just as Concord will provide a sustainable development template to help build food security in Africa's newest nation, the workers it trains will become tomorrow's leading agronomists, managers and foremen on the farms that will increasingly appear on the landscape to replicate what we hope will be an outstanding success story.
Karim Sadek is Managing Director at Citadel Capital, a leading private equity firm in Africa with US$ 9 billion in investments under control spanning 15 industries and 15 countries.