Daily Times | 20 March 2012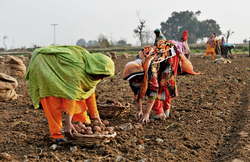 By Razi Syed
KARACHI: The current higher food prices and unenviable policies for giving away fertile lands to foreign groups would cause food insecurity conditions in the country.
The government should table a bill in the parliament before proposing further selling of agricultural lands in order to have a legitimate regulatory mechanism in place. The economist and agriculture experts said on Monday such steps would also put adverse impact on growth as well reducing real income consumption, savings and investment.
The Ministry of Investment (MoI) has already provided more than 6 million acres of farmland as a long-term investment and the land is for sale to the foreigners, reportedly an Emirates Investment Group and Saudi Arabia.
Some of these groups are in the process of acquiring farmland in Pakistan to export more food to the Gulf region. Instead of selling land, however it would be better to sell its yield to people in the Gulf Region, an economist Agha Saiddain said.
"The United Nations (UN) has also expressed its concern over the issue and asked the government two years ago to prepare a transparent and foolproof blueprint in order to avoid involvement of extremist group in such purchases," he maintained. The Gulf and some Dubai-based groups have been showing great interest to acquire fertile lands for rearing livestock besides producing crops for their respective countries.
If the authorities are bent upon selling the land, then it would be better to lease it so that Pakistan would have a right on its land to get it back after the expiration of lease period like China had in Hong Kong and Macao, both remained under foreign occupation for more then 99 years and were eventually returned to China after the expiration of the lease deed, which China was forced to sign after its defeat in the opium war, he added.
Utilisation of proposed lands, the government should prefer local investors and poor landless farmers and support them in cultivation of land to increase gross domestic product (GDP) and per capita income, Saiddain added.
There are many other options to utilise the land, instead of selling, the government should offer such land on 30 years lease, secondly, the farmland may be offered to domestic investors on comparatively easy terms, thirdly the government may distribute this land among landless farmers and help them cultivate the same, he added.
"Saudi Arabia and China are interested to acquire land on lease besides to join hands with private sector stakeholders in order to grow soft crops and vegetables." He said, "It can create security risk for the country and the decision to offer farmland to foreigners is far away from foresight and vision and is only to draw short-term gains at the cost of selling the homeland."
By selling six million acres, the government would introduce new type of feudalism and create relative deprivation in the area and it might spoil bright future of locals, who are already victims of policymakers' short sightedness, he added.
The MoI said the country's agricultural sector would get latest farming technology, if the project materialises.
The worst affected segment of the country was the poor and middle class population who dared the inflationary condition to a level of 63 percent.
The major contributors towards inflation were highest-ever food prices, basic needs, utility bills and rent, they said. It has been estimated that after the proposed investment the country could protect its exports of agricultural produce as those are currently hampered by lack of modern storage facilities conforming to international standards.
The overall inflation rate on aggregate rose to 45 percent in four years (2007 to Sept 2011), mainly on prices of food, wheat and petrolem products.
Standard Chartered Bank Pakistan Limited economist Sayem Ali said the prices of commodities under government's control like wheat and sugar rose to 85 percent within three years.
He said the monetary spread also contributed towards the higher inflationary conditions besides 10 percent subsidy on wheat and increasing cost of productions' inputs due to increase in dollar against the rupee also contributed to higher inflation in the country.
Ali said there was a need to control the monetary spread and steps to increase foreign remittances in order to control the higher rate of inflation.
He opined Pakistan's food price inflation is set to register another record high by the end of 2012, if the government did not take appropriate measures in this regard. Agriculture analyst and members Sindh Agriculture Forum (SAF) said during this period, gas tariff recorded an increase of 35 percent, power tariff increased 45 percent and prices of petroleum products 33 percent.
Food inflation touched 44 percent and might increase in the upcoming months besides soaring international oil prices amid domestic and worldwide food shortages, they added.
The government should freeze subsidy on wheat for two years, announce complete ban on wheat export and check inflow of spurious fertilizer in the country. The government should reduce taxes on food items besides keep price control, increase supply of food commodities in the market and provide subsidies where they are necessary as food aid to justify impact of high prices of food on poor.
The structural measures to avoid hike in food prices including greater transparency over production and stocks in the major food producing countries are vital. UN food agencies also warned of record-high prices of basic commodities that are helping generate unrest around the world.
Asian Development Bank also indicated that direct impact of current higher food prices in South Asia would keep an adverse impact on growth as well as reducing real income consumption, savings and investment.
The higher rates of utilities also contributed in increasing the highest-ever inflationary conditions in the country.