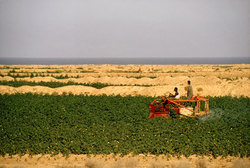 The Reporter | Saturday, 17 March 2012
Ministry of agriculture suspends land provisioning
By WUDINEH ZENEBE
The Ministry of Agriculture (MoA) has suspended the provision of land for investment purposes due to self-assessment. The ministry is also in the process of reviewing its internal structure and inspecting the work and that is being conducted on the lands. The ministry has announced that after it is done with its assessment it will get back to the land provisioning. "Though we suspended the land provision for the time being, we will be considering the facts and we will be providing the lands for big projects." Isayas Kebede, director of investment supporting directorate said.
Ever since the ministry had established investment supporting directorate, a total of 342,099 hectares of lands had been given to local and foreign investment companies.
The directorate took a total of 3.6 million hectares of lands in Benishangul Gumuz, Gambela, Oromia and in some parts of Southern Nations and Nationalities Peoples' Region. It was learnt that the ministry has been providing investors with 100,000 to 500,000 hectares of land.
According to documents, most of the investors did not use the lands that they had taken for the intended purposes. Many people have been complaining that the investors were embanking on aggressive land grabbing which had resulted in destroying environmental resources. They added that the massive action on providing land to the investors was forcing many to be displaced from their villages.
Environmental activists have disclosed that the ministry must evaluate the status of the land that investors were provided with before making more land available to investors.