Want China Times | 15 March 2012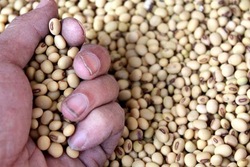 Chongqing Grain recently announced a project worth US$1.2 billion to invest in grain production in Argentina. (Photo: CFP)
Officials from Chongqing in southwest China plan to invest US$6 billion this year to develop agriculture in Brazil, Argentina, Canada and other countries.
Since the global supply of soybeans, corn and cotton has been tight in recent years and China's imports have been rising, the authorities have been encouraging businesses and local officials to seek investment opportunities abroad.
Chongqing Grain Group has announced a project worth US$1.2 billion to invest in grain production in Argentina, setting up a company called Golden Hope Agriculture there with plans to grow soybeans, corn and cotton.
The company has been actively investing abroad in recent years. In 2010, it invested in 200,000 hectares of soybean production in Brazil. The first shipment of soybeans from the project was made in September 2011.
Also in 2010, the company set up a 13,000 hectare rapeseed production base in Canada and has planned an oil-processing facility.
In early 2011 the company launched a processing, storage and port investment project in Brazil.