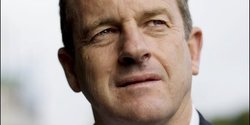 David Shearer. Photo / David White.
APNZ | Mar 11, 2012

Labour targets foreign investment in rural land
Labour has today revealed details on a new Member's Bill which will make it more difficult for foreign investors to buy rural New Zealand land.
The Overseas Investment Amendment Bill would prevent foreign investors from buying rural land unless they could prove it would bring substantial benefits to New Zealand which would otherwise not happen, such as the creation of a substantial number of additional jobs, Labour Party leader David Shearer said.
It would limit the discretion of the Minister to consent to the sale of rural land to buyers from overseas.
"Kiwis are overwhelmingly opposed to the sale of prime rural land, like the Crafar farms, to overseas investors. We are listening to them and are prepared to act in their best interests."
The bill would now have to be selected by ballot to be read in Parliament.
Speaking about the Bill on TVNZ's Q+A this morning Mr Shearer said there was currently 41 new applications by foreigners to buy rural New Zealand land with the Overseas Investment Office.
This equated to 16,000 hectares.
"The Government already has discretion to turn down farm sales to overseas buyers but it is not being properly exercised," Mr Shearer said.
Selling farmland to foreign buyers did not improve the country's economy, with the profits flowing offshore, he said.
"We also do not want to see New Zealand farms priced out of the reach of Kiwi farmers who are the best in the world at what they do."