Emirates 24l7 | 5 Mar 2012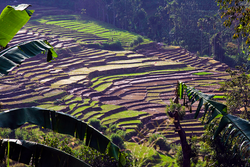 By Joseph George
Consul General Abdul Raheem invites Gulf businessmen to invest in his country's farms
Sri Lanka is opening up its farmland to attract international investment and is keen on building business partnerships with Gulf based firms.
Speaking to Emirates 24l7, Sri Lanka's Consul General in Dubai MM Abdul Raheem said his country wants to extend the farmland investment promotion specifically to Gulf based businessmen.
The country is inviting UAE businessmen to participate in a major conference it plans to host later this month.
"Sri Lanka Expo 2012 will be held between March 28 and 31 and there are already several Gulf businessmen who have signed up to participate in the event. The conference is being held after 15 years and provides the best opportunity for participants to meet Sri Lankan counterparts," said Raheem.
According to him, the country has plans to bring in attracting schemes to attract foreign investment into its agricultural sector.
"UAE's imports of food products have significantly increased over the recent years. Investing in Agricultural land will greatly benefit in preventing steep increase in prices and ensuring steady supply," he added.
According to reports quoting research agencies, growing population and increasing tourist arrival would result in a steep increase in food consumption. The region as a whole would need about 51.5 million tonnes of food every year until 2015.
Food imports across the GCC are expected to reach $53.1 billion by 2020, an increase of 105 per cent from 2010.
"Sri Lanka has more land available for cultivation and it is made available for foreign investors at 99-year lease. Any foreign company that plans to invest in the agricultural sector can enter into a joint venture with any of the local companies," said Raheem.
According to him trade between Sri Lanka and the UAE has seen a marked growth during recent years exceeding $800 million annually. UAE also is the largest investor in Sri Lanka compared to other Gulf countries.
"Our focus is also toward expanding the tourism sector. Today we have a totally secure Sri Lanka and the government is doing everything it can to promote investments in the tourism sector," he said.
According to reports a total of 97.4 billion Sri Lankan Rupees (Dh2.93billion) was invested in 2011 to develop the road network and there are plans to pump in an additional Rs128 billion (Dh3.85billion) in 2012.