Agrimoney.com | 6 March 2012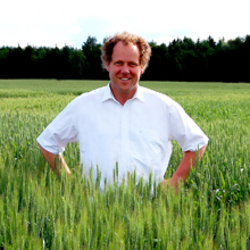 Stefan Dürr, CEO of Ekosem-Agrar GmbH.
Ekosem-Agrar unveiled a E50m bond issue to raise funds for doubling its Russian milking herd, and expanding its 160,000-hectare landbank, extending the wave of investment heading into the country's fast-growing dairy market.
German-based Ekosem-Agrar, which operates in Russia through its Ekoniva Group subsidiary, said the bonds will carry an interest rate of 8.75%, with a term of five years, and were being targeted at retail investors, as well as institutional investors and fund managers.
Funds raised will back expansion of the group's Russian landbank to 230,000 hectares, after 22% growth in the year to the end of September, and of the dairy herd to 21,000 herd by 2015 from the current level of 12,000 milking cows.
The plans imply a far bigger operation than that outlined last week by Stockholm-listed Trigon Agri, which intends to grow its herd to 11,000 head from 2,100 milking cows over the next three-to-four years, a feat it claimed "would make us the largest dairy producer in Europe, including Russia".
In January, Olam International, the Singapore-listed cocoa-to-cashews group, revealed plans to expand the dairy herd at its Russian Rusmolco milk operation from 3,600 head to 20,000 head by 2017.
US-based PepsiCo and French yoghurt giant Danone have also invested in Russia's dairy market.
'Significant shortages'
"The bond gives investors the opportunity to benefit from the promising agricultural sector in a fast-growing and huge emerging country," Stefan Dürr, the founder and chief executive of Ekosem-Agrar, said.
Ekosem-Agrar bond details
Amount: up to E50m
Subscription period: March 12-21
Interest rate: 8.75%
Term: 5 years
Company rating: BB+ (Creditreform Rating)
The rush to expand in Russian dairy reflects the appeal of a large and growing market with, thus far, modest domestic output, driving the country to top rank in imports of some products, such as cheese.
"The Russian milk market is still experiencing significant shortages, and large volumes of products such as cheese and butter have to be imported," even though Russians still consume "considerably" less in dairy products, per person, than Western Europeans, Ekosem-Agrar said
Officials at Abares, Australia's commodities bureau, said in a flagship report on Tuesday that Russia will, in 2012, see butter imports rise "slightly" from last year's 130,000 tonnes, and purchases of cheese rise from 315,000 tonnes.
Looking further ahead, "expected growth in consumption of dairy products, particularly cheese, is expected to lead to a further rise in cheese imports over the medium-term", Abares said.
'Hardly be better'
Ekosem-Agrar estimated the shortfall in Russian production at 8m tonnes in raw milk terms, the equivalent of production from 1m dairy cows.
Indeed, dairy market dynamics "could hardly be better", the group said, noting that the Russian milk price was, at E0.44 a litre, "much higher than in Germany".
Ekoniva, which claims to be Russia's third-ranked dairy producer, lifted its milk output by 70% to 50,000 tonnes in the year to the end of September, with a further increase to 80,000 tonnes planned for 2012.
Backed by higher production of crops such as soybeans, corn and sugar beet on its arable operations, the group achieved underlying earnings before interest, tax, depreciation and amortisation (ebitda) by 192% to E22.8 in the financial year.
The company is targeting ebitda growth at "high double-digit rates in each of the next two years".