Reuters | 7 March 2012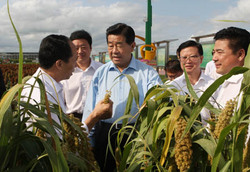 Chinese officials at a farm in Heilongjiang.
By Niu Shuping and Ken Wills
(Reuters) - China's northeast province of Heilongjiang, the country's top corn and soy grower, aims to raise total grains output by eight percent in 2012 and will expand its corn acreage by paring back on land for soy, a local agriculture official said.
Heilongjiang produced 15 percent, or 26.76 million tonnes, of China's total corn output in 2011, equal to the total harvest in Argentina, the world's second largest corn exporter.
"Corn acreage will be increased slightly while soy acreage will fall," Sui Fengfu, director of the General Bureau of State Farms in Heilongjiang, told reporters on the sidelines of the annual parliament congress late on Tuesday.
China's corn supply has grabbed the attention of grains markets as imports from the world's second largest corn consumer have jumped since 2010 after domestic supplies failed to meet demand for the grain used to fatten animals in a country that is eating more meat.
The Heilongjiang bureau, which manages 112 farms, has the largest area of arable land cultivated in the northern part of the province, nicknamed "Northern Great Wildness" or Beidahuang.
Sui did not say how much corn the province aims to produce in 2012.
Heilongjiang, which contributes a third of the country's soy output, cut its soy acreage by 10 percent in 2011, reducing output by 7.5 percent, or 5.4 million tonnes, from a year earlier.
Across China, soy acreage has been shrinking over the past decade as farmers have turned to higher-yielding crops. China has switched from being self-sufficient in soy to being the world's top soy importer, accounting for over 60 percent of the global sea-borne market.
But with food security a major concern, China has been looking to own at least some overseas supplies.
Sui said the province's Beidahuang State Farm Group has started to plant soybeans on 13,000 hectares of farmland in Argentina and may ship the soy back to China.
State media reported last July that the company plans to cultivate 234,000 hectares of farmland in Argentina in coming years to grow corn and other crops.
Beidahuang has also invested in overseas farming in the countries of Cuba, Russia and Venezuela.
Other state-owned companies, including the largest state grain trader, COFCO Ltd, have also been increasing overseas investments.
COFCO's chairman Ning Gaoning told Reuters over the weekend that the company was looking for opportunities to invest in Argentina and Brazil as potential areas for grains production and in Australia for sugar production. (Reporting by Niu Shuping and Ken Wills; Editing by Richard Pullin)
--
COFCO to raise capital to fund acquisitions of overseas sugar firms
Global Times
| 9 March 2012
By Yu Xi
State-owned food giant COFCO Corp is likely to pursue more overseas acquisitions of sugar companies, its Chairman Ning Gaoning said on the sidelines of the ongoing National People's Congress in Beijing Thursday.
The latest statement echoes COFCO subsidiary COFCO Tunhe Co's expansion strategy in sugar industry. COFCO Tunhe plans to raise up to 4.89 billion yuan ($774.6 million) in funds, 3.61 billion yuan of which will be used to develop the sugar business, according to a report filed to the Shanghai Stock Exchange in February this year.
COFCO Tunhe took a 61.25 percent controlling stake in Australia's Tully Sugar Ltd in July last year. And the company said 1.09 billion yuan of funds would be used to acquire 100 percent stake of Tully.
"Domestic sugar industry is facing a serious shortage of raw materials with the rising plantation costs of sugar cane and sugar beets and diminishing labor and land resources. The industry may witness a drop in output in the next three years," the company said.
China's sugar production dropped to 2.2 million tons in January this year, from 2.7 million in the same month last year, China Sugar Association (CSA) data showed.
Control over raw material resources will surely improve the competitiveness of sugar companies, Tao Weiyu, an analyst at the Beijing-based Distribution Productivity Promotion Center of China Commerce, told the Global Times Thursday.
Unlike some other companies in the sector, COFCO intends to establish a complete industry chain, including raw material resources, sugar imports and exports, sugar refining, and sugar production and sales, Tao said.
Ning said the company also intends to invest in corn and soybean sectors overseas, according to a report by Wall Street Journal Thursday.
But domestic food companies need to take into consideration a host of factors when expanding overseas, including foreign countries' economic and political policies, climatic conditions and cultural difference, Liang Mingxuan, an analyst with the CIC Industry Research Center, told the Global Times Thursday.