Agrimoney.com | 28 February 2012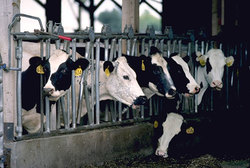 Trigon says it is poised within the next three months to announce "a number of" dairy acquisitions, to "make us the largest dairy producer in Europe, including Russia".
Trigon Agri unveiled plans to expand in Russia through the acquisition of a "large scale" farm operator - and to become Europe's top dairy producer - as it unveiled its first annual profit.
The Black Sea farming group, which is listed in Stockholm, said it was in "advanced talks" over buying a Russian peer, a move which "could significantly enhance the performance and logistics of our overall operations".
"We should be able to make an announcement in the next few weeks," Joakim Helenius, the Trigon Agri chief executive, said, restating a target of raising the group's cultivated land to 200,000 hectares by 2015.
Trigon had 176,892 hectares under its control in Estonia, Russia and Ukraine as of the end of last year, an area more than twice the size of Bahrain, but of which 92,000 hectares was harvested last year.
Dairy giant
Furthermore, the group was in "early stage" discussions over signing up external investors to its dairy business, in which Trigon also has expansion plans.
The company is poised within the next three months to announce "a number of" dairy acquisitions, to "make us the largest dairy producer in Europe, including Russia", Mr Helenius said.
"This would give us the technical possibility to grow the size of our operations in the vicinity of St Petersburg and in Estonia from currently around 2,100 milking cows to around 11,000 milking cows over the next three to four years," he said.
Such an expansion would contrast with the sale of some smaller dairy operations, disposals blamed for a drop of 4.7%, to E5.44m in the division's sales last year.
However, Russia's dairy market is gaining attention from many foreign groups, with growing wealth spurs increased consumption of milk products at growth rates beyond those expected in Western Europe.
The likes of US-based PepsiCo and France's Danone have already invested in Russian processing operations.
Currently, Russia relies on foreign supplies for much of its needs, being the world's biggest buyer of butter and second-ranked importer of skim milk powder.
'Profitable strategy'
The drop in dairy sales contributed to a drop of 1.4% to E75.5m in group revenues last year, with lower grain sales, despite a better harvest than the drought-hit 2010 result, also contributing.
"The group had a 50% larger harvest in tonnage terms in 2011, but a very substantial portion of this harvest was retained as year-end inventory," Trigon said.
"Domestic prices in the first quarter of 2012 have been higher than they were in the fourth quarter 2011 so this turned out to be a profitable strategy."
The company reported a maiden net profit of E1.20m, after a run of losses stretching back to 2006, when the group was formed, and totalling E23m.
"The improved results were the direct consequence of lower costs per tonne produced, achieved through a combination of increased yields per hectare and stringent cost control," Mr Helenius said.