Reuters | 24 February 2012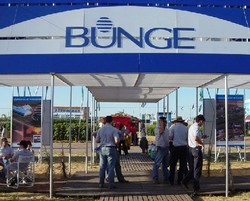 Bunge has recently purchased a 10,000 ha sugar cane plantation in Brazil, announced plans to establish a $100 million farmland fund targetting Brazil, and launched a joint venture that will develop oil palm plantations on 25,000 ha in Indonesia.
The Government of Singapore Investment Corp, one of the world's biggest sovereign wealth funds, has taken a 5 percent stake in commodities trader Bunge Ltd, according to a regulatory filing.
GIC has bought 7,305,865 shares of the New York-listed agricultural trading firm, the fund said in a filing to the Securities and Exchange Commission dated Feb 23, valuing its stake at $496 million.