Addis Fortune | 5 December 2011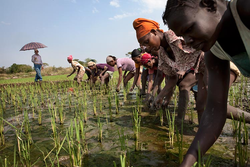 By Hailu Teklehaimanot
Saudi Star Agricultural Development Plc, a subsidiary company of MIDROC Ethiopia and perhaps the biggest agro industry firm in Ethiopia, has added a big name to its roaster. Mohammed Ali Al-Amoudi (Sheikh) has appointed Fikru Desalegn, former state minister for Capacity Building, as its executive director, replacing Haile Assegide, chief executive officer of Derba MIDROC and Tossa Steel Mill.
Haile confirmed that his successor at Saudi Star took over on November 1, 2011.
Often referred to as the shadow reformer while he was serving the administration of Prime Minister Meles Zenawi, Fikru served two terms in the now defunct Ministry of Capacity Building (MoCB), before he retired from public service, last year. He is credited as being one of the key figures that drafted and instituted the business process reengineering (BPR) that is widely applied in public institutions.
Before he was officially appointed to the new position at Saudi Star, Fikru, a father of three, joined the company in January of this year.
"I had no official position," he told Fortune. "But I was studying the operations of the company closely."
It is indeed a daunting task that awaits him, steering the company, which was incorporated in August 2009, with a capital of 500 million Br. Saudi Star aims to grow rice on a 10,000ht plot it acquired in Alwero, Gambella Regional State, and export 60pc of the produce to Saudi Arabia. The farm is to use the Alwero Dam, which was constructed during the Dergue Regime to grow cotton. The dam has been idle for close to two decades.
Saudi Star has signed a contract worth 85 million dollars with GRC, a Pakistani company, for the construction of a 42km canal, on Monday, November 28, 2011. The Pakistani company has agreed to complete the project within 11 months.
"One of my main goals is to see that this happens on time," Fikru told Fortune.
Saudi Star has already put 80 million dollars into buying agricultural machinery and equipment from Caterpillar. The machinery will be delivered by Ries Engineering SC, which is largely owned by Al-Amoudi.
Much of his career in public service, where he had also served as general manager of the Social Security Authority for nine years, was spent heading and participating in various boards. Notable among them was the Ethiopian Electric Power Corporation (EEPCo) and the Commercial Bank of Ethiopia (CBE) boards.
Fikru, who received his first degree in public administration from Addis Abeba University (AAU) and his postgraduate in management from the Institute of Social Studies in The Hague, Netherlands, made his mark in government through his success in reforming the nation's pension system.
He is to oversee the development of the rice farm, whose seedlings are ready, as well as the erection of two mills in Gambella (for husking and drying) and in Bishoftu (Debre Zeit), 45km east of the capital, for whitening and packaging. All of the machinery for the mills have been imported, at a cost of 25 million dollars, and the civil work is underway for their erection.