The Economic Observer | 13 Februrary 2012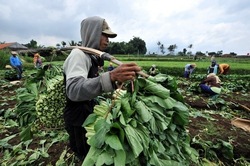 Original article: [Chinese]
The Chinese agricultural industry is speeding up the pace of its engagement with international agricultural markets as more policies aimed at encouraging companies to pursue "Going Out" (走出去) policies are released.
According to the Strategic Plan for Agricultural "Going Out" (农业'走出去'战略规划) drafted by the National Development and Reform Commission (NDRC), Chinese enterprises investing in "agriculture, forestry, and fishery" in foreign countries will benefit from up to 30 million yuan in fiscal and financial support, in addition to tax breaks and help with insurance.
The EO has learned that some of the centrally-administered state owned enterprises and local-level state-owned agricultural companies with their ears to the ground, have begun to take compete for access to government funds. Some local governments are also making regional plans to support the global expansion of agricultural companies.
As China's largest production base of commodity grain, the Heilongjiang Agricultural Reclamation Administration (黑龙江农垦总局), plans to build "foreign reclamation areas" of more than 40 million mu (2.67 million hectacres) in Russia, Brazil, and the Philippines by 2015.
The Chongqing government hopes to establish an additional five production bases in Brazil, Argentina and Canada to grow soybeans and rapeseed over the coming 4 years. The EO also learned that the China National Cereals, Oils, and Foodstuffs Corporation (COFCO 中粮集团) will expand their foreign trade in soybeans, wine and sugar, while the China National Agricultural Development Group (中国农业发展集团) will focus on agricultural and fishery resources in Africa, South America, Australia and Southeast Asia over the next three to five years.
The export of Chinese agricultural products has been slowly emerging, while China has also been increasing imports. According to the latest data from the Ministry of Agriculture, the increase in prices paid for agricultural imports, China's agriculture trade deficit has rose to 34.1 billion US dollars in 2011. More than 90 percent of high quality vegetable seeds are also imported from foreign countries.
Currently, most Chinese investment in agriculture that goes abroad is led by enterprises. Chinese companies have invested in cooperative agricultural resource developments in southern Asia, Russia, Africa, Central America and South America, but the size of the investments has remained modest. A high-profile 2.5 billion yuan investment in a Brazilian soybean base by Chongqing Grain Group (重粮集团) attracted a lot of attention domestically when announced as it was the largest overseas investment to date by a company operating in China's grain industry. The Chongqing Grain Group will send back 2 million tons of soybean from its base in Brazil this year, and that could climb to 10 million tons over the next few years.