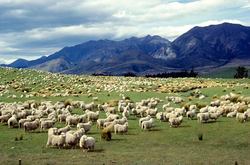 Fairfax NZ News | 13 February 2012
JAZIAL CROSSLEY
The amount of productive farmland being taken out of New Zealand hands each year has dropped off sharply in the past decade, newly released figures show.
The figures potentially weaken the case for a change to overseas investment laws following the controversial sale of the Crafar farms to Chinese conglomerate Shanghai Pengxin.
But those opposed to overseas ownership of New Zealand land suggest the best land has already been cherry-picked by cash-rich foreign buyers who push prices up.
Figures released by the Overseas Investment Office under the Official Information Act showed 15,242 hectares of farming and forestry land was consented for sale to foreign buyers in 2011, significantly down from 48,828ha in 2001 and the least since 2007. The total combined area of the Crafar farms was 7900ha.
Prime Minister John Key has said the laws around overseas investors buying land could be changed, but the Government would consider it only if sales accelerated and public concern grew.
Federated Farmers vice-president Dr William Rolleston said he had expected the amount of agricultural land sold to overseas investors in recent years to be higher.
"It probably reflects that land is at an optimal price and we do have a strong New Zealand dollar which makes our exports more expensive and our land as well."
In the present economic climate worldwide buyers could be looking for land closer to home, Rolleston said.
"Our big purchasers of overseas land have tended to be from the West. Australia, America and Europe have had their own issues in terms of a global recession and it may be a reflection of that with people looking more inward."
Campaign Against Foreign Control of Aotearoa spokesman Murray Horton said the drop in overseas buyers could be because the best sites were already gone.
"Also, of course, since 2008 the Western capitalist world has been in the global financial crisis so it's quite possible the sort of people who would have been spending up large buying lots of land don't have the disposable money to do that now."
He did not think the sale of farms to overseas buyers was becoming any less of a problem.
"I certainly don't think it's because the Overseas Investment Office is suddenly turning down a whole lot of applicants. It's also a question of the quality of land being sold. The point we always make is cash-rich foreign buyers coming in who can outbid New Zealanders for land - which was proven with the Crafar farms - will cherry-pick for the best land available. All the best stuff has already been cherry-picked and they're not making any more of it."
Key said last month that he understood less than 1 per cent of local farms were foreign-owned, but Horton's organisation calculated 7 per cent of commercially productive farmland was owned by overseas investors.