Macauhub | 10 February 2012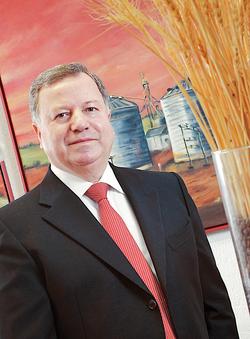 "We have even chosen the municipal areas [in Mozambique] where our project will be set up which, however, have to be kept secret so as not to alert the competition," says Arlindo Moura, Chairman of SLC Agricola.
Sao Paulo, Brazil, 10 Feb – Brazilian agricultural company SLC Agrícola plans to begin its process of internationalisation in Mozambique where it will grow soy, said the company's chairman, Arlindo Moura, speaking to Brazilian financial newspaper Valor Económico.
"The first fours years of operation in Mozambique are likely to be restricted to growing soy, a crop that has fewer risks, both economically and technologically, than cotton, for example," said Moura adding that the company was in touch with agricultural research company Empresa Brasileira de Pesquisa Agro-pecuária (Embrapa) to find out which crops are best adapted to Mozambican conditions.
The chairman of SLC Agrícola noted that in Mozambique land is owned by the State, and that the government provides a concession for use for a 50-year period in return for a symbolic payment and thus, initially, the company will draw up a 50-year plan.
"A new investment model will be arranged when conditions for renewal of the concession are clear," he said.
After analysing several countries, including Colombia, Paraguay and Uruguay, Russia, the Ukraine and some other African countries, the board of SLC Agrícola settled on Mozambique because of its greater political stability and incentives offered by the government.
"We have even chosen the municipal areas where our project will be set up which, however, have to be kept secret so as not to alert the competition," said Moura.
SLC, which in 2011/12 had a planted area of 250,000 hectares and turnover of 1 billion reals, plans to double its business over the next eight years and in 2015 is expected to have plantations totalling 410,000 hectares including sugar cane in its current portfolio of products made up of soy, maize, cotton and some Winter grains.
------
Agrimoney.com | 10 February 2012,
Brazil farmer turns tables by seeking land abroad
SLC Agricola turned the tables on the wave of foreign interest in Brazilian farmland by seeking farms outside the South American country – probably in Africa - in a drive to expand its empire to an area bigger than Brunei.
The farm operator, based in the southern Brazilian state of Rio Grande do Sul, unveiled an "internationalisation plan" which will see it acquire, and plant, foreign farmland by 2015-16.
"The initial focus will be the African continent," SLC Agricola said, adding that it was to study Mozambique "in depth".
The foreign quest will supercharge a drive to increase its farmland by 2020-21 to 700,000 planted acres, of which 20% will be abroad, implying 140,000 hectares in foreign acquisitions.
SLC's current landbank spans 300,000 hectares, including conservation areas, all in Brazil.
Investment wave
The move contrasts with a scramble for South American land by many foreign investors, particularly in countries such as China and Saudi Arabia which are large food importers.
Recent deals include December's $83m purchase by Saudi Arabian dairy giant Almarai of Foodomonte, which owns and operates three farms in Argentina.
Both Argentina and Brazil, South America's top two farming nations, have drawn up restrictions on foreign ownership of land, although such reforms have provoked controversy.
Brazil is still, 18 months after issuing interim restrictions, in reaction to talk of Chinese plans for large-scale land purchases, to unveil definitive rules.
New frontier
However, the growing expense of South American farms is prompting many Brazilians to join the throng of investors seeking foreign plots, relying on agricultural expertise, as well as money, for success in what can be a politically-charged process to win deals.
Mozambique, in which London-listed Agriterra has cattle farming and corn procession operations , has appeared particularly welcoming to Brazilian farmers, with Mozambican farm minister José Pacheco raising the topic on a visit to the South American country last year.
Pinesso Group, based in the major Brazilian agricultural state of Mato Grosso, has unveiled plans to expand its African operations, centred in Sudan, into Mozambique.
In September, farmland investment company Agrifirma Brazil - whose backers include Lord Rothschild, which is advised by commodities investor Jim Rogers– revealed it was to place most of its Brazilian farm operations into a joint venture and seek "attractive opportunities elsewhere in the world".
Cane plans
SLC Agricola also revealed it was to expand its range of farmed crops in 2012-13, with sugar cane likely to win inclusion in its sowing plans.
Separately, rival farm operator BrasilAgro, which already has substantial cane operations, besides corn, cotton, pasture and soybeans, unveiled a slide of 39% to R$6.19m in earnings for the October-to-December period.
Revenues showed a small rise, of 0.9% to R$30.5m, as 91% surge in grain taking was offset by smaller cane sales, lowered by a farm sale.
However, administrative expenses soared 70%, lifted in part by a growing wages bill.
http://www.agrimoney.com/news/brazil-farmer-turns-tables-by-seeking-land-abroad--4146.html