Tillers seek probe of $300 M land lease deal with Bahrain
Published: 03 Feb 2012
KMP | 3 February 2012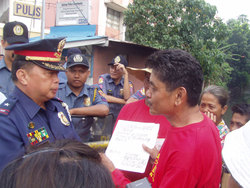 KMP secretary general Danilo Ramos showing peasant demands for agrarian reform to the Manila police, 2010.
The militant peasant group Kilusang Magbubukid ng Pilipinas (KMP) today called on the House of Representatives' committees on agrarian reform and agriculture to conduct a probe and shoot down a $300-million land lease deal the government entered into with Bahrain.
Recent reports said that "Bahrain's Nadir and Ibrahim Sons of Hassan Group has signed a $50 million agriculture investment deal with AMA Group Holdings, Philippines."
KMP secretary general Danilo Ramos said the deal is part of the total project worth $300 million which was launched two years ago which aims "to ensure Bahrain's food security and promote the agribusiness sector."
"It is totally revolting that our lands are being devoted for the food security needs of other nations while the Filipino farmers suffer increasing landlessness, hunger, and poverty," says Ramos.
Ramos vented his ire on Dr. Amable R. Aguiluz V who serves as the Aquino government's Special Envoy to the Gulf Cooperation Council, and whose family owns the AMA Group Holdings that established a joint venture called "RP Harvest" with Bahrain's Hassan Group, to cultivate bananas, rice and other crops on a 10,000-hectare land in the province of Davao Del Norte in Mindanao.
"This so-called joint venture smacks of land-grabbing and conflict of interest on the part of President Aquino's political lieutenant in the Gulf," Ramos said.
"Ambassador Aguiluz, the Department of Agriculture, and the Department of Agrarian Reform have a lot of explaining to do on this massive sell-out of our lands. A no-holds-barred probe on Aguiluz is in order," Ramos stressed.
"Obviously, this irresponsible and massive sell-out of our lands to foreigners is being done by the country's political ambassadors with the blessings of the landlord President," the peasant leader said.
Ramos warned that "the country's so-called joint venture with Bahrain is bound to displace thousands of farmers in the Davao region."
"The Aquino government's sell-out of our lands will surely fuel agrarian unrest and face intense resistance from farmers in the Davao region," the KMP leader warned. #