GlobalAtlanta | 24 January 2012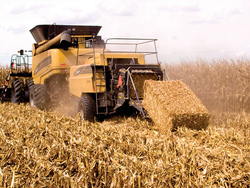 In
October 2010
, Hubertus Muhlhauser, AGCO's general manager of Eastern Europe and Asia, said part of his company's interest in investing in production in China was to put AGCO in a better position when the Chinese government looks to buy equipment to use on its African farms. "The question is are the Chinese going to favor companies that have investments in China, i.e. will the Chinese government purchase goods in China to be used on their farmland in Africa?" he said. "We have seen a few tenders, yes, definitely. Is this becoming a trend? Most likely, and this will be a nice add-on to the business case that we are running here.".
Trevor Williams
Duluth-based AGCO Corp. held its first Africa agriculture summit in Berlin on Jan. 23 to encourage businesses to invest in the continent's future.
The AGCO Africa Summit drew high-level leaders from across the globe to discuss food-supply problems that will worsen as the world's population balloons from 7 billion to a World Bank-estimated 8.9 billion by 2050.
Mechanization, the use of farm equipment like AGCO's tractors and combines, will be key to feeding a more crowded world and fueling prosperity for Africans, who have abundant arable land but now rely on food imports and foreign aid, said Martin Richenhagen, AGCO's chairman, CEO and president.
"Large areas across Africa have suitable soil and climate for successful agriculture, but many areas are not yet cultivated or are not productive enough," Mr. Richenhagen said in a news release. "With 11 percent of the world's arable land (86 percent of which is uncultivated) Africa would benefit from modern, mechanized farming techniques."
The Massey Ferguson tractor brand, which AGCO acquired in 1994, has been present in Africa for more than 50 years.
Hubertus Muhlhauser, senior vice president and general manager for Europe, Middle East and Africa, told GlobalAtlanta in a 2010 interview that "Massey" was synonymous with tractor in most of Africa. Read more: AGCO Exec: China Investments Will Pay Off in Africa
Mr. Muhlhauser said in the news release that African governments should work with business leaders, foreign investors and donors to improve agricultural skills.
AGCO will fund the development of Model Farms and Training Centers in Algeria, Ethiopia, Libya, Morocco, South Africa and Zambia to teach farmers how to use new technology.
The summit was held in conjunction with Bayer CropScience and DEG - Deutsche Investitions- und Entwicklungsgesellschaft mbH.
Speakers included Thabo Mbeki, former president of South Africa; Horst Köhler, former federal president of Germany; Omari Issa, CEO of the Investment Climate Facility for Africa; current and former ministers of agriculture for Germany, Mozambique and Brazil and many other dignitaries.
Visit www.AGCOcorp.com for more information.