Stockhouse | 24 January 2012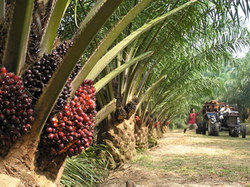 Q&A with Feronia CEO Bill Dry
Can you describe your company and say what it does?
Feronia is central Africa's largest agri-business and the largest agriculture company in the Democratic Republic of the Congo (the DRC), with over 107,000 hectares of arable farmlands and plantations. Our focus is on producing palm oil, rice, beans and other crops. Feronia is one of the largest employers and oldest companies in the DRC, as the result of an acquisition from Unilever plc of the 100-year old Plantations et Huileries du Congo Sprl ("PHC"). PHC was once the largest palm oil operator in the world. With the investment of capital, energy and world-class science and expertise, our objective is to not only return to but surpass this former prominence and capitalize on the tremendous agronomic potential of the DRC. In the short-term we are focused on displacing imports of edible oils and staple foods. In the long-term we will become a major supplier of a variety of agricultural commodities to world markets. We are the only large-scale agriculture operator in the DRC and are well positioned to execute on this vision.
What distinguishes your company from others in your space?
Feronia is the only large-scale agriculture operator in the country with the greatest untapped agronomic potential in the world. Ownership of over a quarter of a million acres of land gives us a unique runway for growth with no need for further acquisition.
Three factors distinguish Feronia from comparables:
Its 100 year operating legacy
Its highly skilled work-force of nearly 4,000
Its strategy to capitalize on its position as the only large-scale agriculture operator in the country by following the extremely successful large-scale mechanized farming model of Brazil, with which the DRC shares similar conditions and potential
Feronia has a highly-skilled workforce and management team that would take any competitor in the country or anywhere else in Africa years, if not decades to reproduce. Feronia also has a large land position in excess of 100,000 hectares (250,000 acres) across four locations. This land position gives a huge runway for Feronia to grow without requiring any additional land. Moreover, the land has been operated historically by Feronia and others going back as far as 1911 and accordingly has no deforestation or ownership issues – two issues that plague all large-scale operators in Africa.
Can you explain why you have chosen to work in the Democratic Republic of the Congo?
The Democratic Republic of the Congo has all the key requirements for success in large-scale agriculture: climate, scale, and logistics.
The country straddles the equator and is approximately the size of all of Western Europe combined. Our plantations are located close to the equator where the weather conditions are ideal for oil palm and other crops such as cocoa and rubber. Our arable farming operations are located in areas where we can plant and harvest three crops per annum without irrigation and achieve competitive yields. The DRC's potential for arable farming is similar to that of Brazil. The country is blessed with a similarly optimal climate, available arable land, and an abundance of fresh water available for agriculture. By following the successful Brazilian large-scale farming model and deploying world-class science and technology, Feronia can achieve similar success in the DRC. In the future we will expand into other staple and cash crops throughout various locations in the country.
The Congo River provides an outstanding form of intra-country logistics linking our most remote locations to the capital city. This means we can move equipment and inputs to the plantations and the crops to the capital in an inexpensive and reliable fashion.
DRC is the world's best hope for new high volume, low cost production of a number of key crops including rice, beans and palm oil. Feronia is the only large-scale agricultural operator in the DRC. With its scale and 100-year history, Feronia is ideally positioned to lead the DRC into an agricultural renaissance.
What are your flagship projects?
The two key operating units are Feronia PHC, the oil palm plantations division and Feronia Arable, the arable farming division.
Feronia PHC has three plantations covering over 107,000 hectares that produce palm oil. Currently approximately 17,000 hectares of productive and immature young palms are planted for palm oil production. The palm oil is sold to refiners in Kinshasa, DRC, to produce cooking oils, soaps and other related products for local consumption. The company is replanting 5,000 hectares per annum and expects to increase the planted area to over 60,000 hectares over the next 10 years. This can be done on our existing land position and without any deforestation making Feronia the only oil palm plantations company with this kind of growth profile that is not dependent on deforestation. Moreover, the growth is internally funded from existing resources and cash-flows from operations.
Feronia Arable has a 10,000 hectare property in the Bas Congo province of DRC, southwest of the capital city Kinshasa. The Feronia Arable division has planted rice on 1,200 hectares. This crop will be harvested in February and will be followed by a crop of beans and then by a crop of millet. Feronia Arable will eventually plant the entire useable component of the 10,000 hectare property and then expand through additional land acquisitions with an intermediate-term target of reaching 100,000 hectares planted. Feronia Arable's growth plan constitutes one of the largest arable farming expansion programmes undertaken anywhere.
What are the main challenges that you face in operating your business?
Like any major operation we face a variety of challenges. Certain challenges such as human resources/staffing, sourcing sufficient land, achieving a critical mass to achieve profitability and dealing with the complexity of local laws and regulations were significantly mitigated through the acquisition of PHC and its 100 years of accumulating in-country expertise and credibility. Other challenges or risks such as weather cannot be eliminated, but can be reduced through planting different crops in different areas at different times of the year.
The key ongoing challenge to the success of Feronia is logistics - and factors related to logistics. All of Feronia's operations are in the DRC and some are distant to the Atlantic port and distant to any city. Moreover, most inputs and required machinery must be imported from overseas. Therefore a great deal of focus is put on planning so that required equipment and inputs are delivered in a timely fashion. The Congo River provides a reliable and low-cost means of transport to the plantations and our arable operations are close to the port and capital city of Kinshasa, and are well serviced by sealed roads.
For both the arable farming and the oil palm operations, sourcing and maintaining equipment is a challenge. Accordingly a great deal of time and energy is spent on buying the appropriate equipment, defining the supply chain for spares and replacement parts, and training local staff in maintenance and repairs.
Who are your competitors?
Feronia produces bulk agricultural commodities, currently palm oil, rice and beans. The DRC is a major net importer of all of these commodities and all of Feronia's production is sold internally. The company has no competitors locally. The competition lies in imports from overseas. In terms of performance benchmarking, the company compares itself to best-in-class operators globally.
Feronia enjoys significant transport cost advantage over imports and aims to displace all imports over the next decade, and in the process transform the country into a net exporter.
Who are the major shareholders of Feronia?
Feronia is widely held by institutions globally with no major or controlling shareholder. It is held approximately 82% by institutions, roughly evenly split between Canada, the USA, UK, and South Africa. The remaining 18% is evenly split between retail investors and the management and directors of the company.
How much cash do you have on hand and what is your monthly cash burn rate?
As at September 30, 2011 Feronia has approximately US$19 million in cash. The company expects to be cash-flow positive on an operating basis in 2012 and thereafter. The primary capital expenditure in the business is the completion of a new palm oil mill at the Yaligimba plantation. This remaining expenditure related to the completion of the mill is approximately $10m. The company believes its current programme of capital expenditures can be funded through existing cash resources and its cash-flow from operations.
Why is Feronia a compelling investment opportunity?
The Democratic Republic of the Congo has the climate, water and scale to become one of the world's key producers across a large number of agricultural commodities. Yet it currently imports over $1 billion in agricultural commodities per annum, at major cost to the populace. The DRC is also predicted to grow from 70 million people to approximately 130 million over the next 20 years, with an attendant rise in the import bill. There is a huge business opportunity in displacing these high-cost imports and ultimately transforming the country into a net exporter of agricultural products. That is the opportunity for Feronia. It is the largest agriculture company in a country with the most untapped agriculture potential in the world.
Feronia is the only agriculture company in the DRC with the strategic positioning, management depth, vast land position and the capital resources to implement large-scale mechanized operations. It has a 100-year history and tremendous expertise in operating in the country. It is therefore well positioned to transform this opportunity into a reality.
The company has raised over $50 million in equity finance over the past three years yet is trading at a market valuation of less than $40 million, at a value less than half of the most recent share issue (March 2011) where nearly $30 million of equity capital was raised. The shares represent an interesting entry point on that basis.
A key driver to the Feronia investment opportunity is its current cash-flows. The company has been in continuous operation since 1911 and, while it has suffered through a period of underinvestment for many years, this reversed in 2009 and the company is on the cusp of profitability. All profits will be-reinvested in the company and in the continued expansion of its oil palm and arable farming plantings. The existing cash resources and operating cash-flows make Feronia far less dependent on market conditions to achieve its business plan.
Who are the key players on your management team?
The key members of the senior management team are Bill Dry (CEO), Raymond Batanga (COO), Agnes Kasongo (Managing Director, Oil Palm) and Michael Parker (Farm Director).
Bill Dry, CEO, is an engineer with over 30 years of experience in large-scale agriculture projects in emerging markets including Ivory Coast, Liberia, Papua New Guinea and Sierra Leone. He was previously MD of Pacific Rim Plantations Pty in Papua New Guinea where he managed a workforce of 6,000 operating a 30,000 hectare oil palm plantation.
Raymond Batanga, COO, has 35 years of experience in large-scale agriculture in the DRC. Prior to joining Feronia Raymond held various senior roles with Unilever plc in DRC including as Operations Director where he oversaw four agro-industrial units covering 25,000 hectares and producing palm oil and various other agricultural commodities.
Agnes Kasongo, Managing Director, Oil Palm, is born in Kananga in DRC. Agnes graduated from the University of Mons, Belgium, with a Degree in Economics. She returned to the DRC and joined Unilever plc. in 1975. She has worked in accounts and human resource functions for Unilever in the DRC and Malawi. In 1998, Agnes was appointed Vice Chairman and HR Director of PHC. In 2000, she was appointed Chairman and Managing Director until the posts were split in 2002 when she retained the position of Managing Director which she has held until now.
Michael Parker, Farm Director, has 30 years of farming experience and 22 years of experience in emerging markets including Saudi Arabia, Oman, Egypt, Turkey, and the United Arab Emirates. Michael brings vast experience in large-scale mechanized cropping to the company and overseas its arable farming operations on-site in Bas Congo, DRC.
Disclosure: Feronia is a Stockhouse client