Bloomberg | 19 January 2012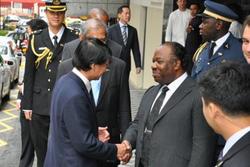 Ali Bongo Ondimba, President of Gabon (right), in SIngapore for the signing of a deal with Olam, providing the company with 300,000 ha of land, November 2010.
By Antoine Lawson
Olam Palm Gabon, a company owned by the Gabonese government and Singapore's Olam International Ltd. (OLAM), is investing in a palm-oil project in the country.
Funding will be used to develop 50,000 hectares in the central African nation and is part of $250 million in total spending, said Gagan Gupta, general manager at Olam Gabon SA. A report published on Jan. 5 in the Libreville-based l'Union newspaper said investment of 450 million euros was planned in 2013. The company said the report was inaccurate.
Olam announced the Gabon investment in November 2010, according to the company.
To contact the reporter on this story: Antoine Lawson in Libreville at
[email protected]
To contact the editor responsible for this story: Emily Bowers at
[email protected]