NY Times | 20 January 2012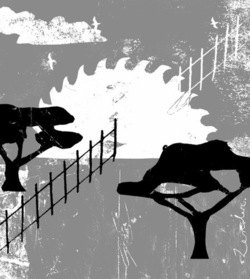 Image: David Zender/NY Times
By SILAS KPANAN'AYOUNG SIAKOR and RACHAEL S. KNIGHT (op-ed)
ON Monday, President Ellen Johnson Sirleaf was inaugurated for a second term. She is often depicted in the press as a postwar leader successfully rebuilding a country destroyed by decades of conflict. For her many admirable accomplishments, she recently shared the Nobel Peace Prize. However, unbeknown to many outside Liberia, Mrs. Johnson Sirleaf's government may now be sowing the seeds of future conflict by handing over huge tracts of land to foreign investors and dispossessing rural Liberians.
Between 2006 and 2011, Mrs. Johnson Sirleaf granted more than a third of Liberia's land to private investors to use for logging, mining and agro-industrial enterprises. Today, more than seven million acres have become forestry and agricultural concessions. In 2009 and 2010, Mrs. Johnson Sirleaf's government awarded more than 1.6 million acres for palm oil production. The land went to the Malaysian corporation Sime Darby and to Golden Veroleum, a subsidiary of the New York-based Verdant Fund L.P. These concessions come at a delicate time, as violent local-level land disputes both between and within villages are still widespread throughout Liberia.
More than a million people live in the regions where the palm-oil concessions were granted. And roughly 150,000 will be directly affected in the first five years of plantation development. Many could lose access to their homes, farms, cemeteries and sacred sites as well as the forest and water resources they depend on for survival. Yet the government negotiated these deals without consulting those who would bear the greatest burden.
In recent months, Sime Darby has begun developing its first 25,000 acres in Grand Cape Mount County in northwestern Liberia. Already, local communities are raising concerns about environmental degradation, desecration of sacred areas and the company's failure to pay workers promised salaries. They have filed a complaint against Sime Darby before the Roundtable on Sustainable Palm Oil, an international certification body.
In response, Sime Darby representatives traveled to the area on Jan. 6 and held meetings with villagers. However, according to Liberian newspapers, members of Mrs. Johnson Sirleaf's government, led by officials from the Ministry of Internal Affairs, disrupted the negotiations and halted discussions before any resolution was reached.
The president then visited the villagers herself. She told them, "When your government and the representatives sign any paper with a foreign country, the communities can't change it," claiming that the Constitution granted the government — and no one else — the right to negotiate with foreign investors. She also told villagers that, in their efforts to hold Sime Darby accountable for its human rights transgressions, "You are trying to undermine your own government. You can't do that. If you do so all the foreign investors coming to Liberia will close their businesses and leave, then Liberia will go back to the old days."
Taking legal action to protect one's home, land and environment from abuse by corporations does not undermine governance; it strengthens state and corporate accountability. By dictating that communities' only available means of redress is through the state — which has a less-than-sterling track record of prioritizing rural residents' rights over foreign business interests — Mrs. Johnson Sirleaf is obstructing more effective methods of achieving justice.
Her administration must change the way it does business. First, she should stop restricting communities from directly engaging with private corporations. Second, rural Liberians should be permitted to use all the legal and advocacy tools at their disposal to safeguard their lands. Third, the government should establish a concession-allocation process that includes informed consent and genuinely engages the rural communities whose land will be affected. A more inclusive and transparent process would serve the government's interests, because it is likely to reduce future land conflicts.
Rural Liberians welcome international investment and they continue to hope, despite decades of evidence to the contrary, that it will bring local development and prosperity. However, they also want to be consulted, compensated for any resulting losses and given the right to determine and manage how their lands and resources are used by investors during the lifetime of the concession.
As foreign investment in Liberia and other poor African countries grows, legal empowerment of rural communities is critical. Those affected by development projects must be educated about their legal rights, fully informed about the terms and environmental ramifications of land concessions and encouraged to stand up against unjust corporate practices.
Mrs. Johnson Sirleaf clearly takes seriously her responsibility to attract foreign investment. Her government must now become equally serious about placing Liberia's citizens ahead of corporations and involving them in government decisions that affect their lands and livelihoods.
Silas Kpanan'Ayoung Siakor is the lead campaigner for community rights at the Sustainable Development Institute in Liberia. Rachael S. Knight is director of community land protection at Namati, a legal empowerment group.