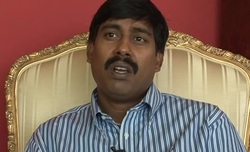 "There is no villagization programme [in Ethiopia]," Sai Ramakrishna Karuturi, founder of Karuturi Global, told Mint via telephone.
Livemint | 20 January 2012
Human Rights Watch flags Indian agri-company Karuturi's Ethiopia operations
Bangalore-based Karuturi, in a letter to Human Rights Watch and in a conversation with Mint, denied any wrongdoing
Anupama Chandrasekaran
Chennai: Karuturi Global Ltd., the world's largest exporter of cut roses with 250,000 acres under rose cultivation in Ethiopia, is under the scanner of New York-based Human Rights Watch (HRW), which in a new report highlights the forced eviction of thousands of indigenous people in the African country's Gambella region, where Karuturi is a key operator.
Bangalore-based Karuturi, in a letter to Human Rights Watch and in a conversation with Mint, denied any wrongdoing.
Companies from all over the world are making a beeline to grow agricultural commodities and sell seeds, fertilizers and agriculture equipment in the Horn of Africa nation thanks to the availability of cheap labour and a dole-out of vast fertile land chunks by Prime Minister Meles Zenawi through the last decade.
The HRW report released this week said the government of Zenawi -- Ethiopia's prime minister of nearly 20 years, accused by human rights watchers of curbing press and civilian freedom— hopes to resettle 1.5 million people in four regions: Gambella to the west known for its coffee and oil reserves; Afar to the north and Somali to the south that are abundant with large population of domesticated animals and Benishangul-Gumuz to the east that has a large forest cover.
The report, "'Waiting Here for Death': Forced Displacement and 'Villagization' in Ethiopia's Gambella Region," provides a description of the first year of Gambella's relocation programme. Through more than 100 interviews taken over a four-week period in Ethiopia between May-June 2011, the study found that the government threatened, assaulted and arrested locals resisting relocation.
Researchers also gathered data via conversations with refugees at a Kenyan refugee camp housing many Gambellans. Moreover, state security forces that enforce population moves have been implicated in 20 rapes over the last one year, the report stated.
In Gambella, where Karuturi has leased 100,000 hectares and has the option to triple area under cultivation, HRW alleges that the Ethiopian government is moving "tens of thousands" of locals to new villages. This "villagization" is happening without adequate compensation and consultation, according to HRW's research.
"In Ethiopia, Indian investors should ask the government to follow domestic and international law, consult communities on the villagization process, ensure that the relocation of people is voluntary, and that rights of people in the new villages are properly protected," said Meenakshi Ganguly, South Asia director of Human Rights Watch, via email.
The human rights advocacy's allegations against Karuturi include forced clearance of maize, sorghum (jowar millet) and groundnut crops from the land of Anuak tribes residing in the lowlands of the Gambella region, which compelled residents to move.
"There is no villagization programme," Sai Ramakrishna Karuturi, founder of Karuturi Global, told Mint via telephone. "This is a completely jaundiced western vision. They assume anything in Africa has to be done by the whites and the Chinese and Indians should have businesses only in their own countries. What they are saying about the Ethiopian government is complete hogwash. But I take respite in the fact that people decide to take potshots at you only if you are successful."
The 1994-incorporated Karuturi Global that ventured into Ethiopia seven years ago logged total profits of Rs9.9 crore on Rs31.8 crore in revenue in 2010-11. That figure is likely to remain unchanged this year amid the financial turmoil in Africa's neighbouring continent, Europe, Karuturi said.
The world's top cut-rose exporter and Saudi Arabian company Saudi Star Agriculture Development Plc. are the only two corporations featured in the report.
In his response to HRW that was appended to the report, Karuturi said his company "is working only on the land given by the government and that is free from any of the possession claims by communities/farmers. Karuturi respects the laws of the land and concerns of the locals and as such has voluntarily moved back from the river Baro (in south-western Ethiopia bordering Sudan) as the local community were cultivating maize and sorghum in those areas."
Karuturi Global's shares were up marginally at Rs5.65 in afternoon trading on the Bombay Stock Exchange where the benchmark BSE Sensex inched up 0.5% to 16742.